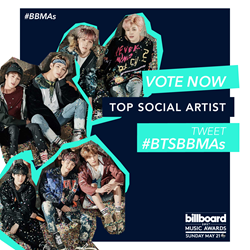 "BTS is in a league of their own and the world is starting to realize it." - Mike Wass, Editor, IDOLATOR
NEW YORK, NY (PRWEB) May 08, 2017
K-pop Superstars, BTS Set to Attend
The 2017 Billboard Music Awards
Live from Las Vegas on Sunday, May 21, 2017
BTS is the First KPOP Group to Receive a Billboard Music Award Nomination for Top Social Artist,
Voting Now Open at https://www.billboardmusicawards.com/vote/
Or Tweet using #BTSBBMAs
BTS Continues Impact U.S. Music Fans,
Hitting 23rd Week at #1 on Billboard's Social 50 Chart
Bighit Entertainment's K-Pop sensations, BTS today announced that they will attend the 2017 Billboard Music Awards to be broadcast LIVE from Las Vegas' T-Mobile Arena on Sunday, May 21, 2017 at 8:00 p.m. ET / 5:00 p.m. PT on ABC.
BTS has been nominated for their first Billboard Music Award in the category: Top Social Act a fan voted honor. On the first day of fan voting, #BTSBBMAs was the #1 Twitter worldwide trending hashtag with voting numbers in the millions for BTS to receive the award.
In addition to the 2017 Billboard Music Awards nomination, BTS just finished their 22nd week atop Billboard's Social 50 chart at #1! On April 27, Billboard noted:
"BTS notches its 22nd week at No.1 on the Social 50 chart (dated May 6), moving it out of a tie for third place in most weeks atop the chart. Previously, the K-pop act shared the distinction with Miley Cyrus and Rihanna. Only Taylor Swift (28) and Justin Bieber (161) have more weeks atop the list." Read story Here.
BTS recently finished a sold out U.S. arena tour hitting cities such as New York, Chicago and Los Angeles, garnering stellar reviews from media, fans and the music industry.
Outlets such as Teen Vogue, NOISEY, Idolator, The New York Times and the Orange County Register all noted the impact the group made on U.S. shores with their high-octane live shows, great songs and choreography.
Idolator noted: "It was clear from the get-go that BTS didn't come to play…[they]..launched into a dizzying dance routine, spinning around the stage in tight formation. The Wings Tour is the perfect introduction to the professionalism and pageantry of K-Pop. BTS is in a league of their own and the world is starting to realize it."
BTS are social media darlings. Their videos for "Not Today," "Spring Day" and "Change" are viral hits with an average of 100 million views over the three videos since their release in early March, 2017.
Marketing:
Eshy Gazit, North America Head of Operations
eshy(at)gramophone.media
212.777.6727 ext 244
For Media Inquiries:
Ellyn Solis
Ellyn(at)ei-pr.com
212.777.6727 ext. 230
Samantha Alaimo,
Samantha(at)gramophone.media
212.777.6727 ext. 244