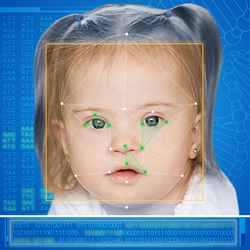 FDNA's Face2Gene suite of applications will create facial analysis algorithms that will be used by clinicians globally to help end the diagnostic odyssey for children with undiagnosed sex chromosome disorders
(PRWEB) May 10, 2017
Millions of people worldwide are living with X and Y Chromosomal Disorders, often called Sex Chromosome Disorders, and don't even know it. These disorders commonly cause issues such as anxiety, ADHD and depression when untreated, with symptoms beginning as early as the first year of life with speech and motor delays. Many of these children may be misdiagnosed as mildly autistic or autistic-like without considering if they have an additive X or Y chromosome. The result of these disorders remaining undiagnosed is that these children become victims of bullying and social isolation, as well as experience academic failure, reading disorders, and needless suffering from numerous health issues throughout their lives.
These neurodevelopmental difficulties can be resolved or significantly reduced if individuals are properly diagnosed and receive targeted biological treatment based on their chromosomal disorder.
Today, The Focus Foundation (http://www.thefocusfoundation.org) announces a collaboration with Boston-based FDNA (http://www.FDNA.com) to accelerate the identification of people affected by X and Y Chromosomal Disorders. By training FDNA's facial analysis software to pinpoint subtle physical presentations, there will be a greater opportunity for early detection, allowing affected individuals the chance to seek medical interventions that have the potential to be literally life changing.
These syndromes involve an abnormal number or structure of the X and Y chromosomes, and include syndromes such as 47, XXY (Klinefelter syndrome occurring in 1 in 650 live male births), 47,XYY (Jacob's Syndrome occurring in 1 in 1,000 live male births), 47,XXX (Triple X occurring in 1 in 900 live female births) and 45, X (Turner syndrome occurring in 1 in 2,000 live female births). According to The Focus Foundation, more than 500,000 people are believed to have 47, XXY disorders in the United States alone, with an equal distribution across all racial, ethnic and socio-economic groups.
FDNA's Face2Gene suite of applications will create facial analysis algorithms that will be used by clinicians globally to help end the diagnostic odyssey for undiagnosed patients and foster early detection and much-needed treatments. Clinicians can also become involved by loading their retrospective XY chromosomal disorder cases into Face2Gene CLINIC, which is available to clinicians globally, at no cost, to facilitate comprehensive and precise genetic evaluations.
"By working with The Focus Foundation, clinicians will be able to detect disorders earlier, changing the course of patients' lives," said Dekel Gelbman, CEO of FDNA. "Too often, affected children are misdiagnosed as simply having speech or motor delays – this partnership will address this problem."
Focus Foundation and FDNA Call on Patients to Join the Fight:
For the collaboration, patients are encouraged to work with The Focus Foundation to include their information in the analysis. The patient information will be de-identified, so the privacy of the patients is protected. FDNA will work with doctors affiliated with The Focus Foundation to analyze the data using the artificial intelligence engine inside FDNA's application suite, Face2Gene, to develop an algorithm to detect facial correlations to these syndromes, as well as to discover other phenotypic and genetic differences that may help clinicians better recognize and diagnose these syndromes earlier.
"This initiative is the fulfillment of a major objective of The Focus Foundation: advocating for an end to the long patient journey undergone by families looking for a diagnosis," said Dr. Carole Samango-Sprouse, Executive Director and Chief Science Officer of The Focus Foundation. "Our goal is for patients to receive a diagnosis as early as possible so they can access appropriate treatments and timely care."
Researchers globally are also invited to learn more and use the Face2Gene RESEARCH application, available free of charge at http://www.Face2Gene.com, to make their own discoveries for other diseases as part of FDNA's Year of Discovery initiative.
For more information, visit http://www.FDNA.com/YearOfDiscovery.
About The Focus Foundation
The Focus Foundation is dedicated to helping children and families affected by X and Y Chromosomal Variations. The Focus Foundation believes that through increased awareness, early identification and syndrome-specific treatment, children with these conditions can reach their full potential.
It is the first and only research-based agency exclusively dedicated to identifying and helping children who have developmental dyspraxia and dyslexia: conditions that lead to the identification and care of children who have X and Y Chromosomal Variations. These conditions also lead to language-based disabilities, executive dysfunction and attention-related issues.
It is a 501(c)(3), non-profit, human-service foundation specifically created to address the needs of the one in 500 children with these X and Y Chromosomal Disorders.
The Focus Foundation strives to help each child develop to his or her fullest potential by assisting in the transformation from vulnerable to powerful, from school failure to class leader, from disabled to able. The foundation advocates for, and facilitates, the research needed for providing the best care to affected children nationally and internationally. For more information, please visit http://www.thefocusfoundation.org
About Face2Gene and FDNA
Face2Gene is a suite of phenotyping applications that facilitates comprehensive and precise genetic evaluations. FDNA uses facial analysis, deep learning and artificial intelligence to transform big data into actionable genomic insights to improve and accelerate diagnostics and therapeutics. With the world's largest network of clinicians, labs and researchers creating one of the fastest growing and most comprehensive genomic databases, FDNA is changing the lives of rare disease patients. For more information, please visit http://www.fdna.com.
###