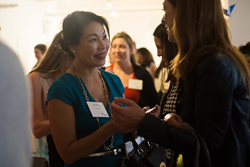 This is the true power of Ellevate at work and I'm honored to be a part of it.
New York, NY (PRWEB) May 08, 2017
Ellevate Network, the nation's preeminent network for professional women, is celebrating the one-year anniversary of The Ellevate Podcast: Conversations with Women Changing the Face of Business with a continuation of their #FemaleRoleModel campaign, which has featured many stories of women leaders, shining a light on the unique experiences of women, and the inspirational examples they set.
As a mission-driven company, Ellevate Network makes an impact by showcasing success stories of professional women making a difference in the world. In the Ellevate Podcast, the guests, ultimate female role models, tell us stories of resilience, humility, leadership, serendipity, inspiration, and much more.
With over 50 episodes at the one year mark, featuring stories from the likes of Betty Liu (Anchor, Bloomberg TV, host of Radiate Podcast), Laura Vanderkam (Time Management Expert, Author), Whitney Johnson (Author and Host of Disrupt Yourself Podcast), Agapi Stassinopoulos (Speaker and Author), Lauren Leader- Chivee (Expert, Activist, Advisor, Founder of All In Together), Natalia Oberti Noguera ( Founder & CEO, Pipeline Angels), Barbara Murphy Warrington (CEO, Girl Scouts of Greater New York), Jas Boothe (Speaker, Army Vet, Founder of Final Salute), Nellie Borrero (Managing Director, Senior Global Inclusion & Diversity Lead, Accenture) and Sallie Krawcheck (Chair of Ellevate Network, Co-Founder & CEO, Ellevest), the podcast provides women with a tangible opportunity to grow personally and professionally through the inspirational stories of women who have lived and learned. The podcast is hosted by Ellevate CEO Kristy Wallace and Director of Global Membership, Maricella Herrera, with a new episode released every Tuesday.
"Hosting the Ellevate Podcast has been transformative. I'm inspired, motivated to do more for myself and the causes I care about, informed, and most importantly connected to a network of stellar guests that have supported me with advice, encouragement, and connections. This is the true power of Ellevate at work and I'm honored to be a part of it."
By sharing #FemaleRoleModel, Ellevate Network is facilitating a conversation about women as leaders, breaking barriers, and setting an example for the future. Sharing the stories of inspirational female role models in the media brings a visibility to women in history that have not always received the credit they deserved for their accomplishments and examples they set.
To see the final list of female role models Ellevate compiles by the end of May, subscribe to the Ellevate Network newsletter here.
To attend Ellevate Network's inaugural #FemaleRoleModel Podcast Live event featuring Gretchen Carlson in New York City, click here.
To listen and subscribe to The Ellevate Podcast, click here. To share your #FemaleRoleModel, check out Ellevate Network on Twitter, Facebook, Instagram, and Linkedin.
About Ellevate Network: Ellevate Network is a global professional women's network committed to elevating each other through education, inspiration, and opportunity. Our mission is to close the gender achievement gap in business by providing women with a community to lean on and learn from.