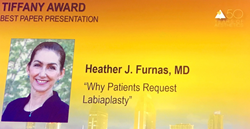 Santa Rosa, CA (PRWEB) May 08, 2017
Plastic Surgery Associates is excited to announce that Heather Furnas, MD, and Francisco Canales, MD, have been asked to present at the upcoming Aesthetic Meeting. Held in San Diego, at the San Diego Convention Center, the annual event will run from April 27-May 2. Drs. Furnas and Canales will lend their expertise to the Premier Global Hot Topics session, speaking on genital rejuvenation.
Hosted by the American Society for Aesthetic Plastic Surgery (ASAPS), the Aesthetic Meeting is known for providing a unique opportunity for top plastic surgeons and aesthetic professionals to share in the latest trends and developments in cosmetic medicine. This year marks the 50th anniversary the event, which first met in Venice, Italy in 1967. The organization now boasts a membership of more than 2,200 international professionals from the fields of facial plastic surgery, plastic surgery, dermatology and oculoplastic surgery.
ASAPS Aesthetic Meeting will consist of a five-day conference, filled with a variety of educational presentations, board-room breakout lectures, lunch and learn sessions and a Corporate Satellite Symposia. The highly interactive and engaging learning experience will include presentations from leading experts on selected topics selected on the face, breast and body, as well as patient safety and practice management. All of those in attendance have the opportunity to earn up 48.75 AMA PRA Category 1 CME credits.
During the Premier Global Hot Topics session, held on Friday, April 28, Drs. Furnas and Canales will present on the advances of female genital plastic surgery. Their talks will cover the viewpoints of both function and aesthetic changes achieved through genital rejuvenation. The surgeons will expand on the innovative ways that new, cutting-edge technology plays an important role today for improving a woman's quality of life. Additionally, Dr. Furnas will provide the welcome message and introductions at the the 4th Annual Women Aesthetic Surgeon's Symposium, held on April 27, as part of the Aesthetic Meeting.
The scheduled presentations of Dr. Furnas and Dr. Canales will cover a variety of genital rejuvenation topics, including:

Nonsurgical and Surgical Vaginal Tightening
Noninvasive RF Treatment
ThermiVa
Dr. Furnas co-founded Santa Rosa's Plastic Surgery Associates in 1992 with her husband, Dr. Canales. As avid lecturers, educators and writers, Dr. Furnas and Dr. Canales often speaks on a variety of plastic surgery topics at conventions around the United States and internationally. Both board certified by the American Board of Plastic Surgery, they are current members of the California Society of Plastic Surgeons, the American Society of Plastic Surgeons, and the American Society for Aesthetic Plastic Surgery.
Details on the 2017 Aesthetic Meeting in San Diego, can be found on the ASAPS website or by calling 562.799.2356. Registration will be open the entire meeting, during regular business hours. Get more information on Dr. Furnas or Dr. Canales by calling Plastic Surgery Associates at 707.537.2111 or filling out an online Contact Us form. For patient convenience, Plastic Surgery Associates has two locations, in Santa Rosa and Novato, California.