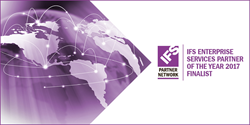 Tampa, Florida (PRWEB) May 09, 2017
ProV, a global IT managed services and integrated solutions provider, is delighted to announce that we have been selected as a finalist in the inaugural 'IFS Partner of the Year Awards 2017' in the category of IFS Services Partner of the Year.
Designed to commend partners for their continued commitment to excellence within the IFS partner ecosystem, the IFS Partner of the Year Awards provide a platform for inspiring partners to continue their dedication to the IFS Partner Program and IFS customers by receiving recognition for their achievements.
The IFS Partner of the Year Awards recognize outstanding partner achievements across seven prestigious categories, including three self-nomination awards, three merit-based awards, and a Customer's Choice award. Winners will be further recognized on Monday, July 10,2017.
"The IFS Partner of the Year Awards were launched to recognize and celebrate the remarkable work that our partners are delivering across the globe, and we are excited to once again see a high volume of exceptional nominations for all categories of this annual event," said IFS Vice President of Global Alliances, David Eager. "On behalf of IFS, I would like to recognize and congratulate our finalists for this achievement, as well as thank all partners who took the time to participate in this year's awards."
View the IFS Announcement here.
About ProV
ProV was founded in 2003 to reduce I.T complexity using services and technologies that don't get in the way - powerful enough to meet the complex demands facing today's enterprises. By streamlining processes, we help companies improve productivity and reduce errors while still saving money. We've assembled a great team to help streamline enterprise day-to-day processes and change how I.T implementation, management, and support work. Now, ProV is a team across offices in the US, Germany, India, and the Philippines. Learn more at http://www.provintl.com