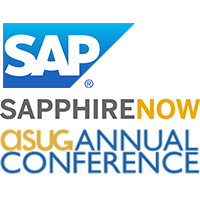 Exhibiting at the SAPPHIRE NOW and ASUG Annual Conference provides an exciting opportunity to showcase HighRadius' innovative approach to optimizing and extending SAP solutions for use in receivables management...
Houston, TX (PRWEB) May 08, 2017
HighRadius Corporation, an SAP partner and a leading provider of financial supply chain management (FSCM) solutions, announces its upcoming participation at SAPPHIRENOW® | ASUG Annual Conference being held May 16–18 in Orlando, Florida, in booth 1077. HighRadius will have speakers presenting on SAP S/4HANA® and SAP Fiori® apps, as well as a booth presence showcasing integrated receivables solutions for SAP® software, with SAP-certified, HighRadius™ automation products such as Advanced Correspondence Accelerator, Dispute & Collections Accelerator, Credit Decision Accelerator and Payments OnDemand.
The conference sessions are specifically targeted to individual interests, and allow attendees to create personalized schedules. Sessions align to industry, line of business, applications, business services, partner innovation and special features. The show speakers help customers running SAP solutions gain valuable insight into ways that digital transformation could reimagine business, with new industry-tailored products and customer successes. Among the speakers will be two HighRadians. Anuj Saxena, vice president & general manager, SAP Practice, will present "How to Leverage SAP Fiori Apps for Real-Time Credit Management," and Shankar Bellam, senior solution architect, will be speaking on "3 Ways SAP Cloud Platform Could Enable Real-Time Credit Management."
In his session, Anuj will discuss the rapid changes that are effecting the role of credit teams. To support customers' needs for a fast, online and mobile credit application experience, Anuj will address how the needs of stakeholders for efficient credit evaluation, and the demand from executives for real-time credit risk monitoring and analytics, mean that credit management teams must embrace technology and become more agile and efficient. This session will also cover the business case for SAP Fiori in credit management, highlighting key functionality and tips for deploying SAP Fiori apps on premise.
In his session, Shankar will address key challenges in the area of managing credit with SAP ERP. He will discuss time delays in onboarding new customers and how acting on critical events such as bankruptcies could negatively impact both the top and bottom lines of firms. He will discuss how credit and sales teams need to find ways to speed up the processes to act on requests faster. Shankar will also highlight how using SAP Cloud Platform with credit application and credit agency integration offers organizations the opportunity to transform credit operations by eliminating manual task bottlenecks and minimize DSO and bad debt while leveraging existing IT and system investments.
The SAPPHIRE NOW conference focuses on how companies can enhance their digital business strategy and get more from their technology investments. SAPPHIRE NOW and ASUG Annual Conference are the world's premier business technology event and largest SAP customer-run conference, offering attendees the opportunity to learn and network with customers, SAP executives, partners and experts across the entire SAP ecosystem.
HighRadius helps companies to maximize the value they gain from implementing receivables management solutions from SAP. The proven solutions and specialized expertise of HighRadius help improve credit department decision-making and provide access to real-time data while assisting companies to significantly lower their total cost of ownership of SAP software. HighRadius™ solutions often provide efficiency gains and key performance indicator (KPI) improvement across credit management, collections management and dispute management activities. HighRadius™ solutions integrate easily with the SAP software environment, eliminating the need for costly and difficult integrations.
According to Sashi Narahari, president and CEO of HighRadius, "Exhibiting at the SAPPHIRE NOW and ASUG Annual Conference provides an exciting opportunity to showcase HighRadius' innovative approach to optimizing and extending SAP solutions for use in receivables management, including credit management, collections management and dispute management."
"Our years of experience implementing products from SAP, combined with our HighRadius™ accelerator offerings, enables our customers to achieve great results for on-time and on-budget product delivery," said Sashi. "We have gathered key insights learned from hundreds of implementations at Fortune 1000 clients to develop a unique methodology for assessing and rapidly deploying SAP software supporting receivables management with a strong track record of meeting aggressive ROI objectives."
About HighRadius
HighRadius™ Financial Supply Chain Management software solutions optimize receivables and payments functions such as credit, collections, cash application, deductions and eBilling. Our HighRadius™ Integrated Receivables solution suite is delivered as software-as-a-service to automate the credit-to-cash cycle. Our certified accelerators for SAP S/4HANA Finance help large enterprises to achieve business transformation initiatives and leverage their investments in SAP software. HighRadius™ solutions have a proven track record of reducing days sales outstanding (DSO), bad debt and increasing operational efficiency, enabling companies to achieve an ROI in just a few months. For more information please visit http://www.highradius.com.
# # #
SAP, SAP S/4HANA, SAPPHIRE NOW, SAP Fiori and other SAP products and services mentioned herein as well as their respective logos are trademarks or registered trademarks of SAP SE (or an SAP affiliate company) in Germany and other countries. See http://www.sap.com/corporate-en/legal/copyright/index.epx for additional trademark information and notices. All other product and service names mentioned are the trademarks of their respective companies.
For press inquiries and more information contact:
Tara Gallagher
Senior Marketing Manager
tara.gallagher(at)highradius.com
281.972.2101