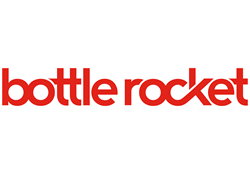 This investment is proof of our continued commitment to provide our clients unparalleled industry leadership.
Dallas, TX (PRWEB) May 08, 2017
Bottle Rocket today announced moves to bring greater focus and fire power to its growth efforts and further secure its position as a leader in mobile experiences. As the world continues its rapid shift toward more of a connected lifestyle, the addition of two new team members and the promotion of a current senior executive set the stage for what's to come from this innovative company.
Calvin Carter, CEO of Bottle Rocket, said, "With the hires of Andrew Sevin as the SVP of Business Development, the promotion of Mark McKinney to SVP of Marketing and Corporate Strategy, and the addition of Jana Boone as Director of Marketing, we are showing an unprecedented commitment to innovation for our customers in both the consumer and enterprise mobility spaces. This investment is proof of our continued commitment to provide our clients unparalleled industry leadership."
McKinney will leverage his expertise in product development and strategy. Sevin previously served as VP of Client Services at Universal Mind. Boone previously served as Director of Business Development and Marketing at the Dallas office of Publicis North America.
This evolution is just the beginning of what's to come for Bottle Rocket. As the company continues to advance its focus and fortify its place as a leader in the world of mobile design and development, it will continue to enhance its offerings, expand its client base, and bring more and more personal, frictionless and contextual mobile experiences to the world.
Visit bottlerocketstudios.com to learn more.
About Bottle Rocket
Bottle Rocket is a multi-disciplinary mobile studio that connects future-focused brands to their customers through sophisticated yet simple mobile experiences. With our award-winning applications and solutions, our partners strengthen their businesses through enhanced user and brand interactions. Our more than 300 iOS, Android, streaming device, wearable, VR, voice, and TV experiences have set new standards in connecting people to what they want. A part of Ogilvy, an international advertising, marketing, and public relations agency, Bottle Rocket is the mobile specialist at the center of WPP, the world's largest communications services group.