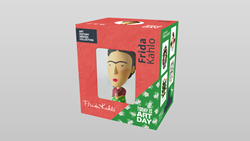 Beatriz Alvarado, head of international affairs at the Frida Kahlo Corporation relays, "We're dedicated to educating, sharing and preserving Frida Kahlo's art, image and legacy. "
Quebec City (PRWEB) May 08, 2017
Today Is Art Day, a popular online arts community, has launched a Kickstarter campaign to fund a Frida Kahlo action figure. Frida is one of the most recognizable artist's the world over. Fans will be able to support the campaign until June 7, 2017 at https://www.kickstarter.com/projects/todayisartday/frida-kahlo-action-figure.
Standing at 5 inches tall, the Frida Kahlo action figure features a monkey, a scented rose hairband, and removable surrealist heart. The figurine is crafted carefully with the artist's signature details and arrives in packaging that conveys unique facts about her work and history. The Frida Kahlo Corporation endorses this project.
The funding goal for this project is CA $20,000 and there are seven different reward levels for contributors. Backers can pledge for a figurine by selecting the "Frida Kahlo: the Icon," reward at CA $30 (around $22.50 USD).
David Beaulieu, CEO and Founder of Today Is Art Day said, "I'm thrilled to launch this campaign and hopefully add Frida Kahlo to our Art History Heroes collection. She was an incredible, groundbreaking artist. This figurine will help raise awareness around her work, story and personality."
Today Is Art Day collaborated with the Frida Kahlo Corporation that owns the rights to the brand name worldwide. Beatriz Alvarado, head of international affairs at the Frida Kahlo Corporation relays, "We're dedicated to educating, sharing and preserving Frida Kahlo's art, image and legacy. This Frida Kahlo action figure project aligns with our mission and so we choose to support it."
Media kit containing images and video available here: https://www.todayisartday.com/pages/media-kit
About Today Is Art Day
Today Is Art Day's mission is to make art and art history more fun and accessible to a wider audience. It was founded in 2014 as an art history social media feed on Instagram, Twitter and Facebook. Every day, a new story about an artist or an artwork is shared among the community of more than 60,000 art enthusiasts. In 2017, Today Is Art Day successfully funded a Vincent van Gogh action figure on Kickstarter, accomplishing the first milestone of its Art History Heroes collection of artist action figures. http://www.todayisartday.com