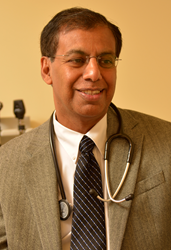 "The hepatitis C virus...is now a curable disease. But that cure can only be achieved if patients are tested, to know whether or not they have the virus," said Dr. Paul J. Thuluvath, The Institute for Digestive Health & Liver Disease at Mercy
Baltimore, MD (PRWEB) May 10, 2017
Paul J. Thuluvath, M.D., Medical Director for The Melissa L. Posner Institute for Digestive Health & Liver Disease, Chief of the Division of Gastroenterology, and head of The Center for Liver and Hepatobiliary Diseases at Mercy Medical Center, is encouraging the Maryland health care community to raise awareness about hepatitis C (HCV) and hepatitis C screening in light of recent Centers for Disease Control (CDC) recommendations about the disease. Mercy will be conducting a special digital public awareness campaign to encourage hepatitis C screening throughout the month of May which is National Hepatitis Awareness Month.
"The CDC recommends that adults born 1945-1965—the "baby boomers"-- should receive one-time testing without prior ascertainment of HCV risk. In addition, all adults who are at risk for HCV infection, such as injection drug users and needle stick injuries, should be tested. Despite these recommendations, too few American baby boomers are being tested for hepatitis C," Dr. Thuluvath said.
"Of the estimated 3.5 million Americans who have the virus, 80 percent are baby boomers. Left untreated, hepatitis C can cause cirrhosis of the liver, liver cancer, and lead to death. Because hepatitis C is often a silent illness, with few symptoms, many with this contagious liver disease don't even know they have it. May is National Hepatitis C Awareness Month, so an ideal time to emphasize education about HCV, its diagnosis and treatment," Dr. Thuluvath added.
"The hepatitis C virus, thanks to new clinical breakthroughs, is now a curable disease. But that cure can only be achieved if patients are tested, to know whether or not they have the virus," Dr. Thuluvath concluded.
"I'm very pleased to see others join our administration in helping educate the community about the risks associated with hepatitis C," said Maryland Governor Larry Hogan. Gov. Hogan has been a strong supporter of health care education and initiatives, from his creation of the Maryland Heroin and Opioid Emergency Task Force and efforts to expand the state's Good Samaritan Law and Prescription Drug Monitoring Program.
"The Baltimore City Health Department has made considerable efforts to provide citizens with important information about the hepatitis C virus. We applaud the efforts of all those in the medical community who are working hard to beat hepatitis C," said Baltimore City Mayor Catherine E. Pugh. Mayor Pugh has long been an advocate of health care education, authoring a series of children's books advocating exercise and healthy eating, founding the celebrated annual runners' event, the Baltimore Marathon, has been recognized as The Mental Health Associations Legislator of the Year, and more.
Both Governor Hogan and Mayor Pugh cited how in 2014, the Baltimore City Health Department, the Maryland Department of Health and Mental Hygiene, the Johns Hopkins University School of Medicine, and the Baltimore County Health Department, received a multi-year grant from the Centers for Disease Control and Prevention to launch a regional initiative to expand HCV testing and treatment.
People can contract the hepatitis C virus through contact with an infected person's blood person. This may occur by sharing drug-injecting equipment, using cocaine, having sex, or getting a blood transfusion or organ transplant. It can also be spread by getting a tattoo with unsterile equipment. In rare cases, women with hepatitis C transmit the virus to their infants.
Symptoms often do not develop until the disease is in its advanced stages and significant liver damage has already occurred.
A world-renowned hepatologist, Dr. Paul Thuluvath provides patients with pioneering treatments and advanced technology to help them manage their illness. Dr. Thuluvath is also author of Hepatitis C: A Complete Guide for Patients and Families, a comprehensive guide to hepatitis C. He is a recognized national and international authority in liver and biliary diseases and dedicated to medical research and clinical trials that are advancing treatment possibilities for patients.
Mercy Medical Center is a 143-year-old, university affiliated medical facility with a national reputation for women's health care. Mercy is home to the acclaimed Weinberg Center for Women's Health & Medicine and the $400+ million Mary Catherine Bunting Center. For more information, visit http://www.mdmercy.com, MDMercyMedia on Facebook and Twitter, or call 1-800-MD-Mercy.