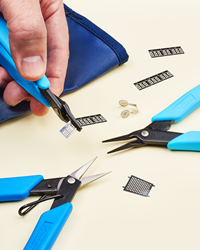 Saco, ME (PRWEB) May 10, 2017
Xuron Corp. new tool kit that provides scale modelers with the right tools for cutting, bending, forming, and holding photo etch material to minimize the potential for damage is being introduced by of.
The Xuron® TK 3600-Photo-Etch Tool Kit is designed for scale modelers who want to cleanly cut and precisely bend all types of photo etch materials and help prevent damage to the delicate parts. Featuring the right tool for each task, this kit includes the Model 9180ET scissor with extra tapered blades, the Model 450 TweezerNose™ Plier which can pick up a human hair, and the Model 575 Micro Bending Plier with forming blades for shaping.
Made of high carbon steel with an eye-friendly glare eliminating black finish, Light-Touch™ return springs, and Xuro-Rubber™ cushioned hand grips, each tool in the Xuron® TK 3600-Photo-Etch Tool Kit fits comfortable in either hand. The tools are ergonomically designed for effortless squeezing and come in a handy tri-fold canvas pouch with pockets to protect them.
The Xuron® TK 3600-Photo-Etch Tool Kit is priced at $63.50 (list). A complete catalog and price list are available upon request.
About Xuron Corp.
Xuron Corp. is one of the world's leading manufacturers of electronics-grade ergonomic hand tools for the electronics, aerospace, plastic molding, hobbies, craft, floral and fishing industries. The company holds numerous domestic and international patents, including an inventor's patent for the original Micro-Shear® flush cutter and its unique cutting action which creates smooth, clean cuts without compression.
Xuron tools are manufactured in Saco, Maine, where quality, an outstanding work ethic, and flawless craftsmanship are a long-time tradition. They are available at hundreds of distributors worldwide who offer more than 100 different types of Xuron quality-crafted hand tools and associated products including pliers, wire strippers, and a Kevlar® cutter.
For more information contact:
Xuron Corporation
Abby Robey, Marketing
62 Industrial Park Road
Saco, ME 04072-1840 USA
(207) 283-1401 FAX (207) 283-0594
e-mail: arobey(at)xuron.com
http://www.xuron.com