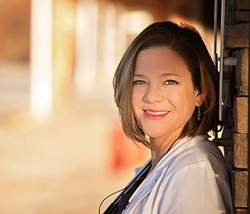 Carnegie, OK (PRWEB) May 08, 2017
Dr. Jamie Cameron, and her team at Liberty Dental, are pleased to announce they are now accepting new patients in need of a long-term tooth replacement solution using dental implants in Carnegie, OK, with or without a referral. Dental implants are an ideal treatment for those suffering from the functional and aesthetic problems associated with missing teeth or dentures. With this treatment, patients can once again smile without worry and be free from the drawbacks associated with other common tooth replacement options.
Dental implants are now the gold standard in permanent tooth replacement options. They are created using a titanium post, a custom-made crown, and an abutment piece that joins the two together. The crown is shaped and colored to match patients' existing teeth to create a seamless smile. Implants are both strong and durable, and can offer patients decades of trouble-free use when cared for properly. When patients replace their missing teeth with implants, they can also increase their ability to eat a variety of foods. They may also experience improved speech and a healthier mouth overall.
When compared to dentures and other traditional tooth replacement options, dental implants are often the preferred choice. They are permanent, so they do not slip or click upon movement of the jaws. They also do not require unique maintenance, adjustments and care. Patients who choose to receive dental implants in Carnegie, OK, also receive a restoration of complete oral function, something that dentures frequently cannot provide.
Patients who may be interested in receiving dental implants in Carnegie, OK, are invited to contact Dr. Cameron for additional information. Patients can call 580-654-1008 to schedule an appointment today and replace missing teeth with a confident smile.
About the Practice
Liberty Dental is a general dental practice offering cutting-edge and personalized dental care to patients in Carnegie, OK and surrounding areas. After graduating from the University of Oklahoma College of Dentistry, Dr. Jamie Cameron established Liberty Dental in 2010; she is dedicated to continuing education and improving patient care. The Liberty Dental team offers a variety of services using the latest techniques and cutting-edge technology. Services include FASTBRACES®, periodontal disease treatment, sleep apnea relief and dental implant restorations, among other services. Dr. Cameron shares her passion for dentistry with each patient and strives to offer the latest techniques for minimally invasive, long-lasting and effective care. To learn more about Dr. Cameron, or the services offered at Liberty Dental, call 580-654-1008 or visit http://www.libertydds.com.