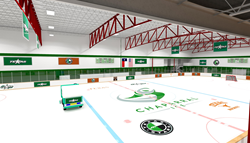 Austin, Texas (PRWEB) May 09, 2017
Today, Chaparral Ice, the only publicly-accessible NHL regulation-size ice skating rink in Austin, is pleased to announce new ownership under Ryan Raya, the former Director of Coaching for the Ice Hockey Association of Austin (IHAA). Raya has been an active member of the Chaparral Ice community for four years and, upon purchasing the ice facility in January 2017, is looking to extend and expand Chaparral Ice's reputation within the Austin community with new programming and planned facility renovations.
The extensive renovation project will not impact the rink's scheduled programming, and will include updates to the existing locker and bathroom areas, the addition of heated spectator seating, a mezzanine and a new sports bar, among other improvements. Renovations are slated to take place from March until June. Chaparral Ice plans to host an official unveiling event later in the year to celebrate the updates, along with their 20-year history.
Raya, whose lifelong love of hockey gave him a passion for the ice, began passing on his formidable knowledge of the sport while volunteer coaching for Chaparral Ice's in-house hockey leagues in 2013, and he played a major role in the growth and development of the Texas Jr. Stars, Austin's competitive youth hockey club. After taking on a directing role with the Ice Hockey Association of Austin in 2014, Raya found himself uniquely qualified to move Austin's ice rink facility, its diverse programming, and its tightly-knit community forward.
"If you're doing anything on ice in Austin – hockey, figure skating, summer camps, birthday parties, curling, anything – you're going to Chaparral Ice," said Raya. "It's not hard to find people who come to the rink three or four days a week, and if people are going to invest that much time in us, we should look for ways to improve their experience of Chaparral Ice both on and off the ice."
For the past 20 years, Chaparral Ice has formed a passionate community around its reputation as Austin's home for ice sports, hosting over 71,000 visitors in 2016. In order to continue serving the Austin community, Raya and the Chaparral Ice team have begun improvements to the facility's lockers, bathrooms and amenities, which were in need of updating. Their plan also called for the addition of a new heated spectator seating area – an obvious necessity for fans, friends and family who had to stand to watch long, cold figure skating competitions and hockey games. The project plan also includes new locker areas for both men and women, and refurbished restroom facilities, while creating space for a new sports bar and concessions stand. Finally, the University of Texas hockey team, a longtime affiliates Chaparral Ice, has space set aside for a Longhorn locker room at the ice center.
"The community Chaparral Ice has built over the last 20 years has enough passion and talent to really become a fixture in Austin and the rest of the state," said Raya. "It falls to us to make sure our rink can handle that kind of growth, and these renovations are the first step towards that."
About Chaparral Ice
Chaparral Ice is Austin's premiere ice facility located at the heart of Northcross Center. As the only NHL regulation-size rink and full-service pro shop open to the public in the city, the center caters to all skill levels across nearly every sport or show on ice. For over 20 years, Chaparral Ice has provided a first-class ice experience for the Austin community, no matter the activity. The center, now owned by Ryan Raya, has fostered a community of its own as a longstanding host of ice sports, from amateur hockey to its association with Cedar Park's Texas Stars. Today, the facility is a gathering place for communities of figure skaters, hockey fans, kids' camps and snow-shy Texans looking to escape the summer sun.
Links:
http://chaparralice.com/
https://www.facebook.com/chapiceaustin/
https://twitter.com/chapiceaustin