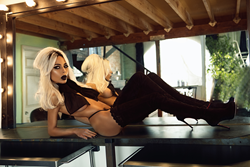 ...you have to know how to shape the woman's body
Beverly Hills, CA (PRWEB) May 11, 2017
Madame Methven has released its updated website, created by WebVixxen Design, as an online showcase of their haute couture creations as well as a new prêt à porter collection of seductive intimate wear.
Since her 2014 return from Paris where she was trained in the art of fine fashion, Fashion Designer Kaila Methven has passionately pursued the creation, design and execution of tailored and luxurious lingerie designed with the powerful woman in mind. In her newest Latrodectus line, custom-made pieces allude to the art of seduction while defining the dominatrix as a powerful, beautiful and elegant representation of femininity.
"As a designer trained in haute couture, you have to know how to shape the woman's body. In designing a bespoke piece, I am careful to customize the garment to suit each woman's distinct body type and the look they wish to express," explains Kaila. "By partnering with WebVixxen, we will be able to have an online presence that is reflective of the unique women we dress."
Madame Methven's commanding online presence will allow powerful women of discerning tastes to add prêt à porter or bespoke pieces to her boudoir with ease and discretion. This new relationship ensures that leading women wishing to express their feminine prowess will have access to collections specifically for them.
About Kaila Methven
Kaila's interest in haute couture was sparked in the "City of Lights," where at the age of 16 she interned at a Paris fashion show at the Trocadero, home to the Palais de Chaillot. Trained in the art of design from the distinguished fashion institute Esmod, she went on to earn a Master's Degree from the International Fashion Academy Paris and completed Advanced Training at Polymodo in Florence, Italy. Kaila launched Madame Methven upon her return to Los Angeles in 2014, with the powerful woman in mind.
http://www.MadameMethven.com
About WebVixxen Design
WebVixxen Design is a fully-integrated boutique design agency based in Venice, California specializing in high-end design and branding. Founded in 2003 by Lana Antonova, the creative force at the forefront of every project, WebVixxen Design prides itself on taking a comprehensive and highly creative approach to every project. For its clients, this approach means increased revenues, brand recognition and ongoing interest from potential new customers.
http://www.WebVixxen.com