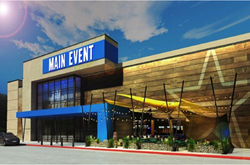 We're thrilled to open our doors and share a third Main Event with the Kansas City community, said Charlie Keegan, CEO of Main Event Entertainment
Kansas City, MO (PRWEB) May 08, 2017
K.C. FUN seekers have more reasons to cheer!
Main Event Entertainment, the nation's fastest-growing bowling-anchored dining and entertainment destination, is opening its third Kansas City-area center – located at 8081 NW Roanridge Road, on Tuesday, May 9.
Main Event is consistently ranked the "best place for parties," thanks to its distinctive "Eat. Bowl. Play." experience. From hassle-free birthday parties to company team-building events to an evening out enjoying a great meal and some friendly competition, Main Event offers more ways to have fun that you can pack into one visit!
The new Kansas City center will host an invitation only VIP event on Sunday, May 7, from 4-7 p.m. and its ceremonial "lane christening" and grand opening from 11:30 a.m. - 1:30 p.m. on May 9, hosted by the Northland Chamber of Commerce and the Greater Kansas City Chamber of Commerce. During the event, attendees are encouraged to experience the new center first-hand with free food, beverages, activities and game play. To request an invitation for the VIP event, Tilisa.Rayford(at)mainevent.com.
"We're thrilled to open our doors and share a third Main Event with the Kansas City community," said Charlie Keegan, CEO of Main Event Entertainment. "We invite everyone to come out and enjoy some delicious food, play an assortment of incredible games and maybe even try something completely new – like laser tag or the World's Largest Pac-Man. We've got it all in our beautifully designed new center."
Main Event has partnered with the Go Bowling 400 (at the Kansas Speedway) and will be giving away tickets to the big race during the VIP event. The event will also include a check presentation to Special Olympics Missouri. More than 15,000 Special Olympians live in Missouri. The organization aims to activate youth, engage kids with intellectual disabilities, build communities and improve the health of the athletes.
The 50,000-square-foot entertainment center is Main Event's new design prototype, which features 22 state-of-the-art bowling lanes with multi-color LED lighting and luxury seating, laser tag, billiards, shuffleboard and a games gallery featuring more than 100 of the latest interactive and virtual video games.
And whether you're looking for a chef-inspired casual dining experience in a full-service American-fare restaurant, specialty pizzas in an Italian-themed cafe or handcrafted cocktails in a high energy bar surrounded by big screen TVs, Main Event's chefs and bartenders aim to please.
The center offers fully equipped private meeting spaces with the latest audio-visual technology, full-service catering, free Wi-Fi and everything else essential to hosting corporate meetings, team-building exercises, holiday parties and other gatherings both large and small.
"We are thrilled to welcome another Main Event to our area," said Sheila Grady, President of the Northland Chamber of Commerce. "Not only is it a wonderful place to eat, drink and play, but it's a great place to work, too. We're thankful that they've brought so many good new jobs to our community, and we think the center will be a great addition to our local economy."
The new center is adding more than 150 jobs to the community, and hiring for fun and outgoing team members is still underway. Interested candidates are encouraged to visit mainevent.com/careers.
The Kansas City Main Event will be open Sunday through Thursday from 11 a.m. to midnight, Friday from 11-2 a.m. and Saturday from 9-2 a.m.
For more information or to book an event, visit mainevent.com/locations/kansas-city or call the local Sales Office at 816.281.2020.
About Main Event Entertainment
Founded in 1998, Dallas-based Main Event Entertainment is rapidly growing, with 34 centers across the United States serving more than 20 million guests annually. Main Event features a unique "Eat. Bowl. Play." experience, making it the perfect place for families, young adults and groups of all ages to Head for Fun. The company currently has five new centers under construction with several more in the pipeline for 2018 across the East, Midwest and Southern regions. For more information, including a complete photo gallery, visit mainevent.com.