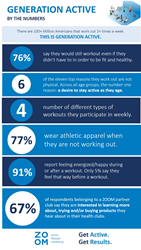 New York, NY (PRWEB) May 08, 2017
According to a study conducted by Great Blue Research, 76% of fitness-conscious Americans would still work out even if they could be fit and healthy without doing so. The survey, which polled over 2,500 members of Generation Active, was commissioned by Zoom, the exclusive advertising and health content provider for the nation's largest health clubs. Zoom defines Generation Active as the over 100 million Americans who exercise at least twice a week. The full study results can be found on Zoom's website: http://www.zoommedia.com/blog-us/2017/05/04/2017-generation-active-study/.
It may seem shocking that the majority would continue to exercise, but the reasoning becomes clear when their motivations are considered. Six of the eleven top reasons for working out are not physical: stress relief, relaxation, better quality of life in the future, improved mental state, desire to live longer and feeling healthier. Across all age groups, the number one reason they workout is a desire to stay active as they age. Understanding these key drivers further proves that this generation is made up of so much more than health nuts and gym rats; it is an overall lifestyle that is consuming the masses.
Other key findings from the study include:

On average, respondents participate in four different types of workouts weekly.
While they are already following a regular fitness routine, 56% still made health or fitness-related resolutions this year. Among the top resolutions: getting more sleep, moving more during the work day, trying a new type of exercise and starting to meditate.
More men than women say it's important to look their best while working out and that they try to look as fashionable as possible when working out.
77% of respondents wear athletic apparel when not working out.
91% report feeling energized/happy during or after a workout. Only 5% said they feel that way before a workout.
An overwhelming majority favor traditional health clubs over boutique fitness centers, especially when it comes to amenities, equipment, variety and quality of classes, and achieving the best overall workout.
67% of respondents belonging to a Zoom partner club say they are interested in learning more about, trying and/or buying products they hear about in health clubs.
For more information on Generation Active, please visit Zoom's consumer-facing website: http://www.generationactive.com/generation-active-facts/, the newest home for ideas and inspiration to help power fitness lifestyles everywhere. From now until May 21st, visitors to the site may enter for a chance to win an "Ultimate Fitness Package," worth over $1,200.
About Zoom Active Lifestyle Marketing
Zoom Active Lifestyle Marketing is an international media and marketing company that specializes in reaching Generation Active. Zoom's media network includes more than 4,400 health club locations across the United States, Canada, and the United Kingdom. Zoom's digital media networks are measured by The Nielsen Company in North America and reach over 25 million unique consumers, in addition to millions more that are reached with digital and mobile media and custom promotions.
Information: http://www.zoommedia.com