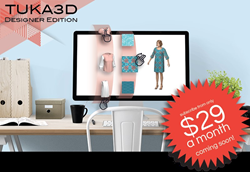 FRANKFURT, GERMANY (PRWEB) May 10, 2017
At Texprocess, Tukatech, Inc. is launching a suite of applications that will change the design community. The patent-pending applications and processes will eliminate sketching, and thus design misinterpretations. By working with existing 3D garments, real scale prints, Pantone-based true colors and pattern repeats, the entire supply chain will be able to collaborate and communicate design ideas at fraction of time and cost. Tukatech's suite of Cloud-based product development solutions gives key players in the design process special digital tools designed with their unique requirements in mind:
TUKA3D Designer Edition Finally, the design and development circle is completed with TUKA3D Designer Edition (patent pending), an up-and-coming visualization application that gives designers the independence to show their concepts virtually, without the need to ever touch a pattern. Sketchbook good-bye!
Build – This isn't virtual pattern draping. This is virtual garment building. In TUKA3D Designer Edition build new styles from virtual assets. Think this sleeve would look better on that dress? Mix and match pieces with ease, no pattern-making required!
Look – Forget the surprise of seeing the print design in the wrong scale after the fabric is already printed. Assess print repeats and placements in true scale on a real garment body. Play with color!
Present – Showcase the final concept with images that portray the design more clearly and realistically than flat sketching ever could. Present these visuals in a design meeting, use them in a tech pack, or send them directly to a vendor as a reference.
TUKAstudio
Used in conjunction with the most popular graphic design softwares, TUKAstudio is a suite of applications for print development. Create and preview dozens of repeat pattern options, colorway variations, and even separate colors for print screens with ease. Enhance digital fabric development with fabric texturing modules.
Weaves – Create yarn-dye weave patterns and render for true fabric texturing. Preview on a flat, or on a virtual garment for the full effect.
Knits – See the print come to life on knit fabric, whether for chunky sweaters or baby-tees.
Adobe Illustrator Plug-In
On demand manufacturing requires agility. Digital printing gives more flexibility to manufacturers, and more options to designers, because they are no longer held back from exploring more complicated or engineered print placements due to the cost factor.
In Adobe Illustrator, designers can fill actual graded patterns with the exact print placement. Tukatech's Adobe Illustrator plug-in sends those graded patterns to TUKAmark, where a high-powered marker-making engine configures the pattern pieces into the most efficient layout. A digital printer prints only the area which is filled with color, in the shape of the pattern pieces themselves, saving cost on inventory and fabric utilization.
TUKAcloud
Designers don't stop moving, and neither should the design process! TUKAcloud is a web-based digital sample room that lets designers and merchandisers collaborate more efficiently with vendors and manufacturers. This application houses data exported from TUKA3D and other systems to contain all information for a developed style on a common, user-friendly platform. A built-in communication platform eliminates the need for endless email threads. This is PLM without the intimidation.
Create virtual samples in TUKA3D and upload all digital files to a web-based digital sample-room
Connect and share data confidently knowing that intellectual property is protected.
Collaborate from anywhere in the world, with flexible internal and external team building.
TUKAbank
Become a part of a vibrant community of designers and creatives. Use TUKAbank to find PDF patterns or 3D virtual style files. Download for personal use, or upload new contributions, and get rewarded when others use them! Use 3D virtual styles to build new garments, or to visualize colors and prints in TUKA3D Designer Edition.
Looking for digital solutions for pattern-makers and sample-makers? Check out TUKAcad for pattern-making, grading, and marker-making, and TUKA3D for virtual sample-making.
About Tukatech: Tukatech is the garment and apparel industry's leading provider of fashion technology solutions. Founded in 1995 by garment industry veteran Ram Sareen, Tukatech provides designers, manufacturers and distributors the tools to streamline operations, increase efficiency, and expand profits. Tukatech provides 2D/3D apparel software for pattern making and virtual sample-making, cloud applications for global communication, and manufacturing equipment for production. Systems include unlimited training, consulting, process engineering, and implementation. Tukatech's technology is at the forefront of the industry and designed for garment makers of all sizes and skill levels. Tukatech has developed a large and loyal international customer base, which has used their user-friendly products to grow and improve their garment and apparel lines. Tukatech is committed to investing in their customers and developing strong bonds with garment makers, large and small, worldwide.