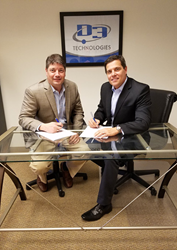 We look forward to combining forces with D3 to help designers and manufacturers nationwide design better products and accelerate time to market.
Springfield, MO (PRWEB) May 09, 2017
D3 Technologies, a leader in Autodesk Manufacturing Solutions, announces the acquisition of the Autodesk Manufacturing & Plant business assets of MasterGraphics including DataWorks MGI, the division of MasterGraphics focused on Autodesk Product Data Management and Lifecycle solutions (PDM/PLM).
MasterGraphics is an Autodesk Platinum partner based in Madison, WI with locations in Wisconsin, Illinois, and Minnesota. MasterGraphics will continue to own and expand their Autodesk Architecture, Engineering, Construction, Civil and Imaging Equipment businesses, as well as Studio MGI, their visualization services division.
D3 also serves the Central, Gulf Coast, Mountain, Northwest and Rocky Mountain regions with Autodesk Manufacturing & Plant solutions, coupled with a strong team of engineering, design, simulation, process automation, and programming professionals.
Over 20 key personnel from MasterGraphics manufacturing team will be joining D3 and will continue to serve clients in the North Central U.S. with offices located in Madison, Appleton, Bloomington/Minneapolis, Waukesha/Milwaukee, Rolling Meadows/Chicago. This includes executive management, Mark Lackovic (Connect with Mark on LinkedIn) and Dan Schulist from MasterGraphics who have been leading the manufacturing divisions.
"As we refocus our business on three divisions rather than five, I am confident that our Autodesk manufacturing clients will be in great and capable hands with D3," said Michael Wilkes, President of MasterGraphics. "D3 is dedicated to Autodesk Manufacturing & Plant solutions, with a strong commitment to client success through outstanding training, support, and consulting services."
"We've had a long standing strategic partnership with MasterGraphics for nearly 10 years now. We hold their team in high regard and look forward to continuing MasterGraphics strong commitment to their loyal manufacturing and plant clients," said Kevin Schlack (Connect with Kevin on LinkedIn), President of D3 Technologies.
"MasterGraphics has always been impressed by D3's track record of providing powerful solutions to meet the challenges of its manufacturing clients," said Mark Lackovic, "We look forward to combining forces with D3 to help designers and manufacturers nationwide design better products and accelerate time to market."
Clients that are new to D3 will being receiving information regarding applicable changes through the month of May. Any questions can be sent to MG@TeamD3.com or call: 877.731.7171
With its expertise in Autodesk solutions and a strong services bench, D3 also provides strategic training, programming, and consulting services for other Autodesk reseller partners throughout the country. D3's team will partner with other Autodesk partners to provide services and support for products such as Autodesk Inventor, Autodesk Vault, AutoCAD Plant 3D, AutoCAD P&ID, AutoCAD Electrical, Advanced Steel, Autodesk 3ds Max, Autodesk Fusion Lifecycle, Autodesk Fusion 360, as well as Autodesk CAM, Simulation, Factory Design solutions.
About D3
D3 Technologies helps their clients design better and manufacture better – from initial concept to final product – D3's training, consulting, support and software solutions can transform the way your company makes things. As one of the largest and most accomplished Autodesk manufacturing partners in North America and the leader in Fusion 360, D3 can partner with your company to help take its manufacturing processes to a new level of efficiency. Visit http://www.TeamD3.com to learn more.
Follow D3 on Twitter @D3Technologies
Special thanks to http://www.PromontoryPointCapital.com serving as financial advisor.
Autodesk, the Autodesk logo, 3ds Max, AutoCAD, Fusion, Inventor, Vault are registered trademarks or trademarks of Autodesk, Inc., and/or its subsidiaries and/or affiliates in the USA and/or other countries.