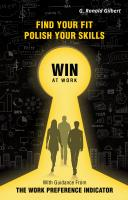 an essential resource for HR talent development and job placement specialists
(PRWEB) May 11, 2017
Find Your Fit, Polish Your Skills, Win at Work helps readers gain purpose in life through finding their work related gifts and developing the "soft skills" needed to be a valued member on the work team by being their best in their service to others through the work that they do. By doing so, one wins at work. The reader will enjoy learning to identify their work related gifts, find the types of careers and work placements for which they are best suited and like doing, and gain the personal skills to shine on the job.
The readers will take an online, validated Work Preference Indicator tool that produces a detailed specialized report specifically written for each reader. It identifies their work-related gifts and the types of work and careers for which they are best suited. They will learn key lessons through interesting and humorous stories where they are introduced to five keys to success on the job. They include Personal Attitude, Goal Oriented Motivation, Persistence, Integrity, and Service to Others. Within each chapter, the readers are given opportunities to apply the lessons from personalized findings from Work Preference Indicator Report, and the many human stories and examples on their own personal situations, and use those lessons to help them find their fit.
The book is an essential resource for HR talent development and job placement specialists, leaders who want to develop those on their teams, executives who want to improve employee work satisfaction and productivity, high school and college educators, vocational trainers, and career developers. It is also written for those who are seeking to regain employment, become more successful in the job they now have, and to learn about the special work related gifts they have that can be polished so that they can become true winners at work, and love doing it.
For many who have been left out of the world of work due to a variety of personal reasons, this book has also been written for them to help them create a new beginning serving others.
The theme of the book is: Do what you love to do, sharpen your skills doing it, and use your work related gifts to serve others—the secret to your career success
About the Author
Ron Gilbert, Ph.D. is an award winning educator and trainer, and consultant to over a thousand organizations. He developed the Work Preference Indicator and has used it to help others find the type of work for which they are best suited as a result of their unique work related gifts. His assessment, included in the book, has been used by over 180,000 adults. He is an expert in helping others gain the "soft skills" needed to be able to shine on the job and throughout one's career. The author presents many insightful and entertaining stories, accompanied by interactive self-help questions and answers all aimed toward helping the reader, "Find Your Fit, Polish Your Skills, and Win At Work."
For more information, visit: http://www.gilbertems.com/