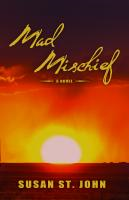 A rare story about a bi-polar, psychotic woman surviving extraordinary stress under unusual circumstances.
(PRWEB) May 10, 2017
Mad Mischief is the haunting tale of one woman's adventure to the edge of her own sanity and an unforgettable testament of her indomitable spirit to survive. Featuring the shimmering beauty and primal power of Sub-Saharan Africa, Sarah embarks on an elite safari with her cantankerous husband, setting the stage for a story of love, deceit, power, obsession and ultimately, escape and redemption.
The word safari means "long journey" and the story of Mad Mischief tells of one unlike any other---a journey of the heart, mind and spirit. Sarah's plans to save her marriage with this journey are shattered when, thrown off balance by a dangerous combination of prescription drugs, she struggles to maintain her equilibrium in the face of the callousness of her husband, the sadistic machinations of their safari guide, the unscrupulous actions of a Nairobi shopkeeper, and the enigmatic behavior of a world-renowned photographer who appears almost magically whenever she is in need of a guardian angel.
Mad Mischief is a rare story about a bi-polar, psychotic woman surviving extraordinary stress under unusual circumstances. The book will be featured at the librarian cocktail meet and greet exclusively for Library Directors from all around the United States, during the Book Expo America Trade Show. The book will be available at booth 575. BEA is the largest show floor in North America with 600+ exhibitors displaying their upcoming titles in digital, audio and print, as well as every genre from thrillers to comedies, from book publishers and authors across the country and around the world.
About the Author
Susan St. John spent nearly twenty years as Vice President of Sales for a major division of a Fortune 500 company and then went on to create two successful entrepreneurial ventures, one delivering unique financial services to high level executives and the other, providing innovative networking and marketing opportunities for a broad cross-section of businesses. She now resides in Montecito, California. The author actually experienced a private African safari after being prescribed a dangerous combination of drugs which induced a psychotic reaction. Upon returning to America, she was diagnosed as bi-polar and had apparently been on a manic high while on the safari.
Mad Mischief is her debut novel. For more information, visit: madmischief.com