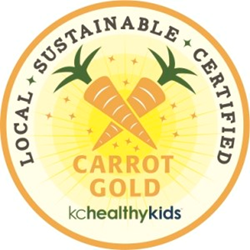 Through the Carrot Gold initiative, KC Healthy Kids is able to impact the food system by growing the demand and working to grow the supply of healthy, locally-produced food, says Alicia Ellingsworth, farm to institution manager at KC Healthy Kids.
Kansas City, Mo (PRWEB) May 10, 2017
KC Healthy Kids welcomes five new partners to its Carrot Gold program for April 2017, bringing the total to 28 food service establishments dedicated to sourcing locally. The new partners include canihaveabite, Heirloom Bakery and Hearth, Unbakery and Juicery, and Locally Sourced Meats: Wells Family Farms.
Carrot Gold recognizes restaurants and institutions that use sustainable practices in their kitchen, offer healthy menu choices and source local ingredients. The program, headed by Alicia Ellingsworth, farm to institution manager at KC Healthy Kids, began in 2012 with just a handful of partners.
"Through the Carrot Gold initiative, KC Healthy Kids is able to impact the food system by growing the demand and working to grow the supply of healthy, locally-produced food," says Ellingsworth. "We market our partners and drive business to them, increasing the volume of this new normal of sustainability. Through Carrot Gold, we also work with local growers encouraging scaled-up production. We stand between and amid these two groups, growing the connections and breaking down barriers."
canihaveabite
While canihaveabite is new to Kansas City, Mo, it is seasoned in the local food movement.
"Owner and chef, Kathy Hale, has been a familiar face since the early 1990s when she opened Daily Bread in Westport and at farmers markets all over town," according to Ellingsworth.
canihaveabite began as a catering business, then a storefront and are now located in its beautiful current location in Kansas City Mo. They prepare a wide range of healthy take-away meals ready for your table with vegetarian, vegan and paleo options. Check out their specially-designed cleanse program and brand new line of house-made refreshing beverages.
Heirloom Bakery and Hearth
Scott and Kate Meinke moved home to Kansas City, Mo to begin baking. After selling at the Brookside Farmers Market for a season, baking off-site and rehabbing the gas station, the bakery finally opened in 2015 to a very excited, established customer base. Heirloom's community-focused bakery serves the highest quality, made-from-scratch menu. The menu is based on seasonally-available produce, reflecting the creativity that such a practice demands. The bakery is a popular and lively meeting place for young mothers and for business lunches alike.
Unbakery and Juicery
Unbakery and Juicery, located in Kansas City, Mo, is a great stop to pick up morning coffee or juice, lunch or a tasty snack mid-afternoon. You may eat in, sit out under the unique shade structure or make use of the convenient drive-thru. Cold-pressed juices, raw foods, gluten-free 'unbaked' goods and specialty items such as bone broth are staples in the cooler. You'll also find an eclectic collection of merchandise and bling along with 'unbaked' sweets to tempt you.
"Their flavor combinations will propel your palette and enliven your day," says Ellingsworth.
Terra Health Market
Terra Health Market is Independence, Mo's locally-owned, health food market. Terra's produce department anchors the store and boasts 100 percent organic produce. The bright and beautiful store is comfortable to navigate and staffed with knowledgeable and friendly employees, bringing together convenience and health-minded shopping. Unique items fill the shelves, but do not overwhelm. Meals prepared in-store and made-to-order smoothies and juices are available. Terra also offers a comfortable luncheonette to enjoy a respite from your day.
Wells Family Farms
Farmers market legend Kim Wells has opened this butcher shop- and-more in a storefront at City Market in Kansas City, Mo. Working toward a brick and mortar location for years, Kim now gathers from her network of producers and shares goods and stories with the larger community.
"Kim Wells connects food to people and people to their food," says Alicia Ellingsworth, "Kim and I sold at the same farmers market for years, she brought a friendly feeling to the market, reminding us to slow down and make time for conversation."
###
About Carrot Gold
Through Carrot Gold certification, KC Healthy Kids recognizes and highlights businesses and institutions that are sourcing food locally, operating with sustainable kitchen practices and offering healthy menu options. Acknowledging sustainability and cooperation as the new normal, we make introductions that pave the way for partners to collaborate and to elevate their missions. We advertise and market for our partners helping drive new customers to their businesses, growing the demand for local food, as we work to grow the supply by supporting local farmers as they increase capacity to meet Kansas City's emerging markets.
KC Healthy Kids
KC Healthy Kids rallies the people in our communities to improve access to affordable fresh food and safe places to walk and play. When our neighborhoods support healthy habits, we are less likely to suffer from obesity, which is linked to Type 2 diabetes, heart disease, and poor mental health. To make a lasting impact, we shape policies that improve our food system and physical surroundings and ultimately, the places where we live, work, learn, and play.