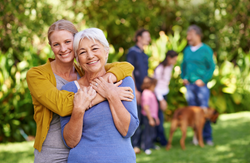 It is certainly important for women to be vigilant about testing for conditions that are most successfully treated when caught early, including breast cancer and colon cancer.
Santa Rosa, CA (PRWEB) May 10, 2017
With the goal of empowering women to make health a priority, the U.S. Department of Health and Human Services Office celebrates National Women's Health Week beginning on May 14th – which is also Mother's Day. This weeklong event is offered to encourage women to take steps to improve health with a focus on annual screenings, lifestyle choices and prevention.
"It is certainly important for women to be vigilant about testing for conditions that are most successfully treated when caught early, including breast cancer and colon cancer. And, another good way to stay healthy is to have routine check-ups to screen for the basic health concerns," says Dr. Lela Emad obstetrician & gynecologist. "Heart disease is still the top killer of women in the U.S. therefore it is equally important for women to monitor blood pressure, cholesterol levels and to be aware of any potential for diabetes."
Life expectancy in the U.S. for women now averages a full eight decades – barring accidents or major health issues. With all that living to look forward to, it's a good idea to adopt healthy habits as early in life as possible. A look at the trends to better health reveals that there are some very simple ways to optimize health, and make life worth living.
Schedule an Appointment
One important step consists of scheduling a visit to a healthcare provider for a well-woman checkup that includes preventive screenings. Health professionals recommend adolescent girls and women start routine, annual gynecologic visits around the age of 14 unless otherwise indicated by their general practitioners. These important checkups give women an opportunity to discuss both gynecologic and general health concerns. This type of screening can include the following:

Blood pressure, Height, Weight
Lipid Panel (cholesterol and triglycerides)
Breast Cancer Screening
Cervical Cancer Screening
A hemoglobin test, an indicator for anemic
Pap & HPV tests
Exercise – Be more active!
Sitting for prolonged periods at a desk or in front of the computer may be a necessity for many a woman's livelihood, but it's not good for the body. Research shows that women who sit for more than six hours a day have a 40 percent higher risk of dying from any cause when compared to women who sit for fewer than three hours—regardless of their fitness levels.
Exercise is hands-down the best thing both men and women can do to improve health. And the best way to get fit and stay fit is to get moving. Exercise increases energy and releases endorphins—which in turn increases a person's happiness quotient. Several recent studies indicate that staying active is associated with a longer life expectancy.
Exercise doesn't need to be drudgery, a good way to incorporate a routine that endures the test of time is to choose activities that are fun. Simply going for a 20-minute walk with a friend is extremely beneficial to overall healthfulness. Just 2.5 hours weekly (about 20 minutes a day) of moderate aerobic exercise such as walking provides all the major health benefits a body needs to stay healthy.
Eating for Life
Research proves that eating more fresh vegetables is one of the simplest way to improve overall healthfulness. A vegetable-rich diet can help protect the body from arthritis, heart disease, stroke, dementia and a variety of cancers - and it might also slow down the aging process. In fact, one study found that people who consume at least seven portions of fresh vegetables and fruit each day have as much as 42 percent lower risk of dying from any cause, compared to those who eat one portion or less.
Breast Health
Routine breast exams and general awareness of how to maintain breast health are important elements in maintaining a healthy lifestyle for women. Screening methods such as regular self-breast exams, breast checks during routine gynecologic exams, and screening mammographies can all help to detect breast problems early-on.
For National Women's Health Week, the office of Women's Health US Dept. of Health & Human Services also recommends that women pay attention to mental health, get plenty of sleep and take steps every day to manage stress. And, of course avoid unhealthy behaviors, such as smoking, texting while driving, and not wearing a seatbelt or bicycle helmet.
About Women's OBGYN Medical Group
The provider team of expert OB/GYN physicians, certified nurse midwives, family nurse practitioners, and medical assistants provides unmatched care to patients in our region. As women proudly serving women, we understand the needs and expectations of our patients. For more information, call (707) 579-1102 or visit the Women's OB/GYN website.