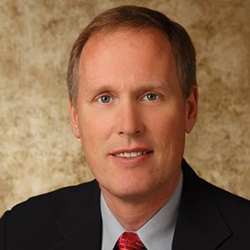 "We are focused on bringing our customers solutions that improve clinical workflow and IT efficiency. This leads to enhanced patient outcomes."
Murfreesboro, TN (PRWEB) May 09, 2017
Bob Brolund has been named the Chief Executive Officer of Enovate Medical. Headquartered in Murfreesboro, Tennessee, Enovate Medical is a leading manufacturer of innovative medical point-of-care products and services designed to improve clinical workflow and enhance patient care. The company is majority owned by Riverside Partners, a Boston based private equity firm.
In announcing Brolund's appointment, David Belluck, Chairman of the company's Board noted, "I have been very impressed with the vision Bob has provided as the company's General Manager and COO. Under Bob's leadership, the company is developing exciting new technologies, bringing new offerings to the market and enhancing the ways we support our customers."
"I am pleased to have this opportunity to lead a transformation at Enovate Medical," said Brolund. "We are focused on bringing our customers solutions that improve clinical workflow and IT efficiency. This leads to enhanced patient outcomes." Brolund also noted, "We take pride in the fact that our products are manufactured in the U.S.A., right here in Tennessee."
Board member Ian Blasco observed, "Having served as the company's COO and General Manager, and previously as its CFO, Bob has a long and varied background with the company and the market we serve. We are delighted that he enthusiastically agreed to become Enovate Medical's CEO."
Brolund brings over 25 years of leadership experience to Enovate Medical. He has held executive positions at Publishing Group of America (PGOA Media), Ocean Design Inc., Drexel Heritage Furnishings, Steelcase, Newell Rubbermaid's Home Hardware Division and Sundstrand Corporation. He received his B.A. from Taylor University and his M.B.A. from Michigan State.
About Enovate Medical
Enovate Medical is a solutions provider for acute care hospitals that delivers innovative workstation solutions and services that improve clinical workflows and facilitate real time charting at the point of care. Enovate Medical's specialty-focused approach enables healthcare facilities to advance the highest standards of patient care. Thousands of providers rely on Enovate Medical's solutions to enhance nurse workflows, improve patient care, and deliver on the promise of today's electronic medical record systems.
More information regarding Enovate Medical can be found at http://www.EnovateMedical.com
Follow us on Linkedin at https://www.linkedin.com/company/enovate-medical
About Riverside Partners
Founded in 1989, Riverside Partners is a middle market private equity firm currently investing out of its fifth fund. The fund focuses on growth-oriented companies primarily in the healthcare and technology
industries. Riverside Partners is particularly experienced at partnering with founders, owners and
management teams and it brings substantial domain expertise and operating experience to its portfolio
companies. Today, Riverside Partners manages about $850 million of equity capital and seeks to make investments in companies with revenues between $20 and $200 million and with $5-$25 million of EBITDA. For more information, please visit http://www.riversidepartners.com.