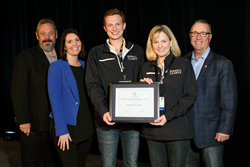 I have never had the immediate impact on a pipeline in my career as I experienced with Funnel Clarity this year. My seasoned pros all agreed it was THE best training they have ever attended and it has stuck with them due to the method. They over delivered
Arlington, VA (PRWEB) May 10, 2017
Funnel Clarity, formerly VorsightBP, was recognized for its sales training and executive development, which continues to nourish the rapid growth of inside sales organizations worldwide. As corporate customers increasingly adopt more technology, companies recognize skills training must become an integral part of their sales strategies. Funnel Clarity empowers inside sales teams to hold insightful conversations at every stage of the funnel.
"It is an honor to recognize Funnel Clarity as this year's recipient of Training Provider of the Year. Funnel Clarity has proven their dedication to helping advance the professionalism and performance of the inside sales industry, which is the mission of the AA-ISP," stated Bob Perkins, Founder and Chairman.  "We applaud Funnel Clarity and thank them for their service to our growing profession and community of inside sales representatives, leaders and solution providers", stated Perkins. 
Chris Lukasiak, SVP of Sales and Marketing at MyHealthDirect and recent Funnel Clarity client remarked, "I have hired many training companies and experienced many others myself in my career. I have never had the immediate impact on a pipeline in my career as I experienced with Funnel Clarity this year. My seasoned pros all agreed it was THE best training they have ever attended and it has stuck with them due to the method. They over delivered on my expectations in a dramatic way with my teams."
Tom Snyder, Funnel Clarity Founder, accepted the award, "We are exceedingly proud to receive this award for the 8th year in a row. It demonstrates our passionate commitment to improving the capabilities of professional sellers everywhere. Our mission to improve the B2B buying experience has been recognized and supported by the inside sales community and we could not be more honored."
About Funnel Clarity
Funnel Clarity is a professional services, consulting and training firm that believes capable sellers are the single most valuable resource to buyers. Go to funnelclarity.com for helpful content on the science of prospecting, lead qualification, selling and sales management.
About The AA-ISP 
The AA-ISP is the only association in America dedicated to advancing the profession of inside sales. It does this through promoting inside sales best practices and inside sales tips for business practitioners. It also promotes inside sales careers in what is already becoming the fastest growing segment of sales and marketing around the globe. For more information on AA-ISP, please visit http://www.aa-isp.org or follow the company on Twitter @AA_ISP.