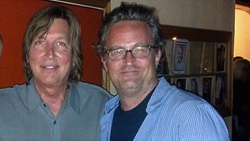 Short Form Comedy Improv is better than ever and everyone loves it ...Kent Skov
Burbank Ca (PRWEB) May 10, 2017
LA Connection Comedy Theatre Celebrates 40th Anniversary. Comedy Pioneer Kent Skov Founder says, "SHORT FORM COMEDY IMPROV is stronger and more popular than ever. They are the longest running Short Form IMPROV THEATRE in Los Angeles. 40th Anniv Celebration takes place May 13th 2017.
Kent Skov, who created and founded THE LA CONNECTION COMEDY THEATRE also made a genre of comedy that is as popular today as it was way back in 1977 when he started and performed on the sidewalks in Venice Ca.
In 1978 he opened the first brick and mortar theatre at the Crossroads of The World complex in Hollywood, CA. http://www.laconnectioncomedy.com
By 1980 he opened a second location in Sherman Oaks, where its popularity gained, Kent and his troupe would appear on national TV on a regular basis making this genre of comedy nationally a HUGE HIT!
When they opened, dubbing movies live it was called Improvision and they toured the state of California. This led to their daily segment on Thicke of the Night called Flicke of the night. The popularity of the segment led to their own TV series called Mad Movies with the LA Connection. It ran from 1985-1993: 2 years in syndication, 2 years on Nick at Night where it reached over a million viewers weekly then onto MTV for 3 years.
Their dubbing of a Sherlock Holmes movie on A&E Network led to a CableAce award for "Best Comedy Special." Like an Emmy, while all the time, drawing big crowds to the 2 locations in Los Angeles. By 1998 they were taking the show on the road and had 178 company players. And the comedy was spreading all over the world. And even THE COMEDY STORE brings in their troupe to a sellout crowd multiple times.
In 1993 LA CONNECTION COMEDY THEATRE stretches again with KIDS IMPROV which is still running today.
Stars get their start at the LA Connection Comedy Theatre:
Over the years stars got their start in comedy by joining the LCCT before they were stars they included:
WILL FERRELL, MATTHEW PERRY, JON LOVITZ, HANK AZARIA, VICTORIA JACKSON, MINDY STERLING, VIC DUNLOP, to name a few.
Today, LA CONNECTION COMEDY THEATRE is located in Burbank, CA on W. Magnolia Blvd, still drawing sellout crowds weekly, their comedy troupe is better than ever and funnier than ever.
Skov announced today that this year Their 40th Anniversary will have a lot of special events to celebrate, one such event will take place in May with star studded party to celebrate their 40th Anniversary seeing many of its alum returning to pay homage to this LA Institution.
Kent and his most popular comedy rep company are avail to appear on your show to perform.
The alumni and all-star veteran cast show is Saturday May 13th from 8-10pm with after party. The CableAce nominated movie dubbing of Sherlock Holmes "The Woman in Green" will screen before at 7pm with guest stars from the TV show that appeared on A&E network.
40th ANNIVERSARY EVENTS
Wed. May 10 8pm Long form Kent Skov introduces 4 new long form games rarely scene that he created over the years.
Thurs. May 11, 8:30pm Beyond Stand-up features top comedians from Steve and Barb North's Rep company
Fri. May 12, 7pm Comedy Improv for Kids by Teens features are top teens from our LA Connection teen group
8-10:30pm Five improv groups from LAC's top veteran all-star casts. Features
Less than Flattering 8pm
Temporary Insanity 8:30pm
Stranger than Fiction 9pm
So Funny it Squirts 9:30pm
Split Decision 10pm
Sat May 13 5:30pm Comedy Improv for Kids by Teens
7pm Sherlock Holmes "Woman in Green" dubbed by LA Connection with a brand new hilarious comedy soundtrack. Nominated for a CableAce award for "Best Comedy Special" as seen on A&E Network. Live appearances by some of the cast.
8-10pm 40th anniversary celebration featuring alumni and celebrity guests performing with LAC's award winning veteran cast 2001 an Improv Odyssey show. Followed by after party.
Sun May 14 Comedy Improv for Kids by Kids performed by kids 5-12 years old celebrating our 24th year. This is subject to a Mother's Day cancellation. Call first for reservations.
8pm Sunday Funny Sunday LAC's JV casts performs 2 improv sets back to back.
MEDIA CONTACT; ROGER NEAL @ NEAL PR- 323-366-2796