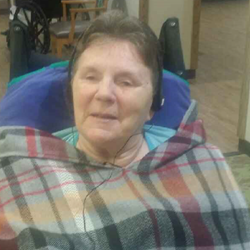 Judy seemed to jump back into her chair, as if she was surprised to hear Gloria Gaynor's 'I Will Survive.'
Houston, TX (PRWEB) May 09, 2017
Pathways Memory Care at Villa Toscana, announces a free showing of the documentary, Alive Inside: A Story of Music and Memory on May 11, 2017. The uplifting film takes caregivers on a journey to awaken many of those we've "lost" with music triggered memories. The documentary was chosen to compliment Pathways' innovative and holistic music program, MUSIC & MEMORY℠.
It is estimated that more than 360,000 Texans suffer from memory loss yet studies prove that integrating music in care program helps patients with memory issues. Alive Inside, which won the 2014 Sundance Film Festival Audience Award for Best U.S. Documentary, is designed to bring awareness and hope for caregivers of those afflicted with Alzheimer's or dementia.
One of Pathways' first residents to participate in the MUSIC & MEMORY℠ program is Judy Buczkowski. She has limited psychomotor skills and her dementia has limited her ability to communicate. Judy is particularly fond of music from the 1970's. Memory Care Director, Mary Sparks, loaded an iPod with classic hits from Eddie Floyd, Gloria Gaynor, and the Trammps.
"Judy seemed to jump back into her chair, as if she was surprised to hear Gloria Gaynor's 'I Will Survive,'" says Sparks. "As the song played, a huge smile began to develop on Judy's face."
Pathways is proud to show 'Alive Inside' to further educate the community about the health benefits of music.
Who:
Pathways Memory Care at Villa Toscana and caregivers, family, and friends of those suffering from Alzheimer's and Dementia
What:
Presentation of Sundance Award Winning Documentary, Alive Inside (78 minutes)
Why:
To offer hope and help for families and caregivers working with individuals with Alzheimer's and Dementia.
When:
Thursday, May 11, 2017; 7 p.m.
Where:
Pathways Memory Care at Villa Toscana
2930 Cypress Grove Meadows Dr. 
Houston, TX 77014
Cost: Free and Open to the Public; popcorn, candy and beverages will be provided
Since 2016, Pathways Memory Care at Villa Toscana has been a certified provider of MUSIC & MEMORY℠, a non-profit organization that provides personalized music to those in nursing homes and other care organizations who suffer from a wide range of cognitive and physical challenges.
To learn more, please visit http://www.pathwaysmemorycare.com./
About Alive Inside:
'Alive Inside' (http://www.aliveinside.us) shows the transformative effects of personalized music on Alzheimer's and dementia patients. The film focuses on one man's journey to awaken memory among our elderly, while raising deep questions about what it means to still be "alive inside." It questions when we stop "being human," and what it takes to re-start a life that has faded away; how we see our elderly, and how we are going to treat an epidemic of these degenerative diseases.
About Pathways Memory Care:
Pathways Memory Care at Villa Toscana is a state-of-the-art luxury memory care community dedicated to providing highly personalized, unsurpassed care in a therapeutic environment that honors the dignity and individuality of each unique resident. At Pathways, we realize that each resident who requires dementia or Alzheimer's care has a unique story, background and set of needs. Pathways Memory Care team members provide personalized care daily so that changes in a resident's health or behavior are detected early, ensuring the best quality of life and health for each individual resident.
Uniquely designed for those with memory loss, Pathways Memory Care encourages maximum freedom and socialization while maintaining an invisible blanket of security and protection. Health, safety, and quality of life were top priorities as we designed a unique environment that encourages residents to interact with their community, enjoy favorite pastimes, and stay connected with the world.
At Pathways, every detail is attended to so that residents can relax and enjoy the safety, security and stress-free life our community offers. Care extends beyond our residents as we place special attention on family members, former caretakers and friends. We provide guidance, answers, and support during the challenging times and throughout their journey with dementia or Alzheimer's. Our support groups meet often and our counselors are always an available resource at Pathways Memory Care at Villa Toscana.