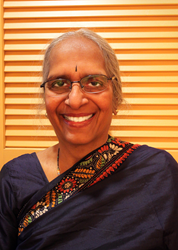 New Britain, CT (PRWEB) May 09, 2017
Charter Oak State College, (http://www.CharterOak.edu), Connecticut's public online college, is pleased to announce that its 2017 commencement ceremony will take place on Sunday, June 4 at 1:30 p.m. in Welte Auditorium at Central Connecticut State University in New Britain, CT. Dr. Shyamala Raman, Faculty Emerita of Economics and International Studies at the University of Saint Joseph, West Hartford, CT, and former Core Consulting Faculty member for Charter Oak will be the commencement speaker. A live webcast of the ceremony will be hosted on CharterOak.edu for students unable to attend in person.
Dr. Shyamala Raman has a passion for economics, education, and for international, multicultural, women's and human rights understanding. Her international advocacy, academically as well as programmatically has included presentations at the United Arab Emirates University in Al Ain; at the Sultan Qaboos University, Muscat, sultanate of Oman; and at the Human Rights Forum held in Kigali, Rwanda, sponsored by the UNESCO Chair in Comparative Human Rights at the University of Connecticut. She has also served as a speaker/workshop leader on the Millennium Development Goals at nine of the Annual Intergenerational Leadership Forums held by the UNESCO Chair. As Director of International Studies and Programs at USJ, she assisted with the international agreement with HAN University, Nijmegan, The Netherlands.
She generously gives of her time and talent to support numerous non-profits, including: Board of the World Affairs Council, Mercy Housing and Shelter Corporation, and Volunteers in Service to Education in India, Inc.
She has a Ph.D. in Economics and an M.BA. in Finance from the University of Connecticut, a M.A. in Liberal Studies from Wesleyan University and a M.A. in Economics from the University of Madras, India.
***
Founded in 1973, Charter Oak State College (http://www.CharterOak.edu) is Connecticut's only public online college, offering associate and bachelor's degree completion programs in high-demand fields including Health Information Management, Health Care Administration, Cyber Security and Business Administration. The College offers a Master of Science in Organizational Effectiveness and Leadership. Charter Oak is accredited by the New England Association of Schools and Colleges and governed by Connecticut's Board of Regents for Higher Education.