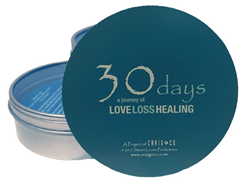 30 Days brought me comfort during a time when I faced painful questions about life and death.
Los Angeles, Ca (PRWEB) May 08, 2017
Nearly a year after the death of his in-laws, Craig Taubman recognized the power of Shloshim, the Jewish mourning ritual which sets aside 30 days to process loss. Motivated by monthly mailings he and his wife received from the Skirball and Providence Hospice programs, Taubman was inspired to create 30 Days, a Journey of Love, Loss and Healing, a collection of short introspections from poets, faith leaders, artists, healers, and authors, including Rabbi David Wolpe, Louise Erdrich, Mitch Albom, and Achinoam Noa Nini.
The creative packaging enhances the experience. Reinforcing the cyclical nature of loss, each introspection is printed on its own 4" circular card and placed in a shallow tin. Readers are invited to determine the order and priority of the readings for themselves, accessing or displaying the cards in whatever order they are moved.
The project was made possible with the support of Hillside Mortuary in Los Angeles and Rabbi Steve Lowenstein of Glencoe, Illinois. "From its inception, I viewed the 30 Days project as an amazing source for comfort," said Rabbi Lowenstein. "Thirty days can be difficult to navigate. The first 30 days. The 30 days before a birthday, around an anniversary, in the middle of winter, or in the heat of summer. Truth be told, every day can be difficult."
No stranger to spiritual compilation projects, Taubman is the creator of successful collaborations such as Jewels of Elul and the award winning Celebrate CD series, consisting of 21 theme-based Jewish recordings.
# # # #
Review copies of 30 Days a Journey of Love, Loss and Healing can be requested by contacting info(at)picounionproject.org or by calling 818-760-1077. Proceeds from the sale of 30 Days will benefit the not-for-profit Pico Union Project, a multi-faith cultural center in downtown Los Angeles.
30 Days -A Journey of Love, Loss and Healing
Contributors
1. Rabbi Karyn D. Kedar
2. Rabbi Amichai Lau-Lavie
3. Rabbi Ed Feinstein
4. Louise Erdrich
5. Jessica Leigh Lebos
6. Anita Diamant
7. Marsha Falk
8. Rabbi Anne Brener
9. Rabbi Sharon Brous
10. Miriam Heller Stern
11. Rabbi Morris Joseph
12. Henry Scott-Holland
13. Zelda
14. Louise Taubman
15. Rabbis Sylvan Kamens and Jack Riemer,
16. Stuart K. Robinson
17. Eleanor Dashevsky
18. Rabbi Rebecca Einstein Schorr
19. Kathi Turner
20. Rabbi Asher Lopatin
21. Dr. Afshine Emrani
22. Rabbi David Wolpe
23. Achinoam "Noa" Nini
24. Sarah Tuttle Singer
25. Rabbi Shira Milgrom
26. Father Richard Rohr
27. Marsha Attie
28. Rick Lupert
29. Mitch Albom
30. Ecclesiastes