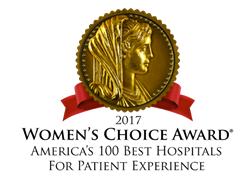 Hospital choice is a critical decision, particularly for women who make 80% of healthcare decisions.
Fort Lauderdale, FL (PRWEB) May 09, 2017
In today's highly competitive hospital environment, 86% of women would travel at least 50 miles for a hospital that was rated best in patient experience, according to a national survey with over 1,000 women respondents. To help women set their navigation systems in the right direction, the trusted research and referral source announced today its list of the 2017 America's 100 Best Hospitals for Patient Experience in honor of National Hospital Week, May 7th - 13th, 2017.
Patient experience includes several aspects of health care delivery that patients highly value when they seek and receive care, such as getting timely appointments, easy access to information, and good communication with health care providers. According to the Agency for Healthcare Research and Quality, good patient experience positively correlates to disease management, adherence to treatment plans and health outcomes.
The methodology used to select America's 100 Best Hospitals for Patient Experience is unique in that it evaluates specific Hospital Consumer Assessment of Healthcare Providers and Systems (HCAHPS) survey results along with primary research about women's healthcare preferences.
The Women's Choice Award collects the data for the following HCAHPS survey measures and uses a weighted average to award the best hospitals for patient experience:

Effective communication with nurses and doctors
Responsiveness to requests for help
Pain management
Explanation about medications before being administered
Bathroom and room cleanliness
Patient recommendation rating
Facilities were ranked among the top 100 hospitals of similar size based on number of beds.
"Hospital choice is a critical decision, particularly for women who make 80% of healthcare decisions," said Delia Passi, founder and CEO of the Women's Choice Award. "Our patient experience award gives them the confidence that they have selected a hospital where they and their families are more likely to receive care that is truly patient-centric for the best possible outcomes."
The following elite facilities are among America's 100 Best Hospitals for Patient Experience and carry the Women's Choice Award seal, signifying their commitment to the healthcare of women and their families:
Adventist Health Castle, Kailua, HI
Barbara Ann Karmanos Cancer Institute, Detroit, MI
Baylor Scott & White Surgical Hospital at Sherman, Sherman, TX
Baylor Surgical Hospital at Fort Worth, Fort Worth, TX
Billings Clinic, Billings, MT
CarolinaEast Medical Center, New Bern, NC
Catawba Valley Medical Center, Hickory, NC
Central Valley Medical Center, Nephi, UT
CHRISTUS St. Michael Health System, Texarkana, TX
Cuyuna Regional Medical Center, Crosby, MN
Fulton County Health Center, Wauseon, OH
Greenwich Hospital, A Member of Yale New Haven Health, Greenwich, CT
Hill Country Memorial Hospital, Fredericksburg, TX
Iowa Specialty Hospital, Belmond, IA
Lafayette General Medical Center, Lafayette, LA
Lincoln Surgical Hospital, Lincoln, NE
Mercy Medical Center, Baltimore, MD
New Hanover Regional Medical Center, Wilmington, NC
Orange City Area Health System, Orange City, IA
Orthopaedic Hospital of Wisconsin, Glendale, WI
Pullman Regional Hospital, Pullman, WA
Rockcastle Regional Hospital & Respiratory Care Center, Mount Vernon, KY
Saint Francis Healthcare System, Cape Girardeau, MO
Saint Francis Hospital and Medical Center, Hartford, CT
Saint Peter's University Hospital, New Brunswick, NJ
St Tammany Parish Hospital, Covington, LA
St. Jude Medical Center, Fullerton CA
Texas Health Harris Methodist Hospital Southlake, Southlake, TX
The Valley Hospital, Ridgewood, NJ
UCLA Health, Los Angeles, CA
UMC Health System, Lubbock, TX
Union General Hospital, Inc., Blairsville, GA
West Park Hospital District, Cody, WY
White Plains Hospital, White Plains, NY
Woman's Hospital, Baton Rouge, LA
For more information on America's 100 Best Hospitals for Patient Experience, please visit https://www.womenschoiceaward.com/awarded/best-hospitals/100s-best/
# # #
ABOUT THE WOMEN'S CHOICE AWARD®
The Women's Choice Award® is a trusted referral source, empowering women to make smart healthcare choices by identifying the country's best healthcare institutions based on robust criteria that consider female patient satisfaction and clinical excellence. The Women's Choice Award was recently honored by the INC 5000 List of America's Fastest-Growing Private Companies in 2016 for a second consecutive year. The Women's Choice Award will be hosting the first annual Women's Choice Award® Show, where awarded hospital CEOs will be honored. Visit http://www.womenschoiceaward.com/ to learn more.
The information contained in this release is not permitted to be used in a non-press related context without the express prior written consent of the Women's Choice Award.