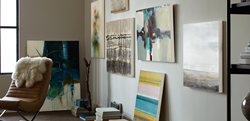 "Our goal is to elevate home life for our customers into an emotional and aesthetic experience," said Crate and Barrel President and Chief Merchant Steve "Woody" Woodward.
San Francisco, CA (PRWEB) May 11, 2017
UGallery (http://www.ugallery.com), the premier curated online art marketplace, and Crate and Barrel, the industry-leading home furnishings retailer, today announced a partnership to exhibit and sell UGallery original artwork at crateandbarrel.com. The exclusive collection presents one-of-a-kind artworks by 28 top emerging artists from around the country.
"Our goal is to elevate home life for our customers into an emotional and aesthetic experience," said Crate and Barrel President and Chief Merchant Steve "Woody" Woodward. "We are excited to add the energy of original art to our assortment for customers, and we are proud to support emerging artists across the country through our new partnership with UGallery and this exclusively curated collection."
"Our mission has always been opening up access to original art," said Stephen Tanenbaum, UGallery co-founder and CEO. "When we are able to connect passionate artists with new art buyers, everyone wins. This partnership with Crate and Barrel allows us to bring the joys of owning original art to an even larger audience, an exciting opportunity for both the Crate and Barrel customer and our artists."
According to the 2017 Hiscox Online Art Report, the online art market is valued at $3.75 billion,
with 79% of art buyers spending less than $5,000 per piece. By offering exceptional artwork at accessible prices – to go along with hand-selected curation, free shipping and returns, and a direct to consumer model – UGallery has reinvented the traditional art gallery since launching in 2006.
The collection of artwork will start at $700 and go up to $2,575, and includes artwork as large as 48"x36". Artwork is shipped in a custom art box – no peanuts, no mess – and is delivered directly to customers from the artist's studio. Crate and Barrel will introduce shoppers online at http://www.crateandbarrel.com/ugallery today, in its fall catalog and in select stores later this year.
The partnership features emerging artists working in a diverse range of styles, media and subject matter, including:

Heather Patterson (Hemphill, TX): Patterson's art is governed by her mission to reassign meaning to materials that have outlived their perceived purpose. She works with reclaimed wood and window panes to produce geometric wall sculptures that may remind the viewer of abstract modernist paintings. Each sculpture is created without a premeditated plan or sketch, but is instead governed by feeling and intuition.
Jonelle Summerfield (Indiana, PA): Summerfield takes an impressionistic approach to painting romantic street scenes and city corners. She travels extensively throughout North America and Europe, photographing all of her own reference material before returning to Pennsylvania to work in her studio. Summerfield says it is important for her to remember the mood and feeling of the location she's painting.
James Hartman (Burlingame, CA): Working en plein air (on location), Hartman paints expressive, lively scenes of his surrounding landscape. His body of work captures the fresh and sunlit essence of the coastal California hills.
For more information on where to find Crate and Barrel and UGallery together, visit http://www.crateandbarrel.com/ugallery or http://www.ugallery.com/crate-and-barrel.
ABOUT UGALLERY
UGallery is shaking up the art industry. Gone are the days when art was reserved for elite collectors with deep pockets; UGallery makes it possible for everyone to own original art. Based in San Francisco and founded in 2006, UGallery passionately represents 500 emerging and mid-career artists from around the world. With accessible prices and free shipping and returns, UGallery makes it easier than ever to experience the joys of original art. We welcome you to browse our collection at http://www.ugallery.com
ABOUT CRATE AND BARREL
Crate and Barrel is an industry-leading home furnishings retailer known for exclusive designs, excellent value and superb customer service. Working directly with European ateliers and factories, Crate and Barrel was among the first to introduce affordable household goods and contemporary home décor to American consumers. Founded in 1962 and headquartered in Illinois, the brand's essence has translated perfectly to the omnichannel era more than 50 years after opening its first store. The company operates stores throughout the U.S. and Canada as well as international franchise locations across the globe. For more information, visit http://www.crateandbarrel.com.