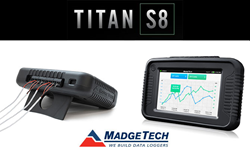 Rosemont, Illinois (PRWEB) May 09, 2017
The Food Safety Summit rounds up thousands of food safety experts, regulators and professionals to provide practical solutions to the everyday challenges faced with on the job. The 3-day conference is packed with educational sessions and workshops to demonstrate strategies for improving food safety initiatives.
Highlighting the importance of data loggers to ensure safety and efficiency, MadgeTech will have a variety of temperature monitoring options on display. In the spotlight, the Titan S8, the ultimate companion to simplify complex validation tasks for food safety and quality managers.
Gone are the days of having to individually measuring parameters one by one. The portable Titan S8 is equipped with eight channel inputs for versatility on the move. The touchscreen interface allows users to monitor and view just one or eight parameters simultaneously, right from the palm of their hand without the need for a computer or software.
The Titan S8 is compatible with thermocouple, RTD and thermistor probes to measure temperature, current, voltage and pulse. With a built-in rechargeable battery, the Titan S8 is ready to go to work in a second's notice. To save time, the recorded data is saved onto the logger and can be offloaded to a USB drive at any time for further analysis and reporting.
MadgeTech will also be displaying the RFOT wireless meat temperature data logger, which offers meat processors to continuously monitor the internal temperature of a product throughout smoking, cooking, cooling and storage processes. The RFOT is compatible with MadgeTech Cloud Services giving users the ability to access real-time readings from any internet enables device.
For high temperature cooking processes up to 284 °F (140 °C), MadgeTech offers the HiTemp140 series. These food-grade stainless steel devices are completely submersible and are available in a variety of probe sizes to accommodate a multitude of jobs.
The MadgeTech MicroTemp was designed for to ensure quality and freshness for brewers, vintners and beverage makers. Only 2.6 inches tall and only 0.7 inches in diameter, the MicroTemp fits into most beverage bottles to validate pasteurization and fermentation processes.
These products and more will be available at the MadgeTech booth #524. Swing by to learn more about MadgeTech's industry-leading data loggers, customizable solutions and user-friendly software.
For more information about MadgeTech data loggers, please call MadgeTech at (603) 456-2011 or click here.