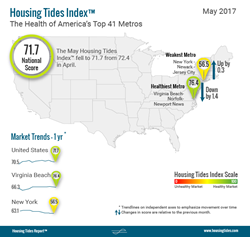 Tides Index fell to 71.7 in May from 72.4 in April. The Index still indicates improved conditions from its year-ago value of 70.5.
Denver, Colorado (PRWEB) May 11, 2017
This week marks the release of the May Housing Tides Report™, featuring an update to the Housing Tides Index™, an objective and sophisticated approach to quantifying and comparing the health of U.S. housing markets. The Index value suggests that market health remains on solid ground despite the persistent mismatch between housing supply and demand.
Understanding the health of a housing market and its relationship to other top markets requires an aggregated, comprehensive view of the industry. The Housing Tides Index provides a succinct monthly measure of market health across the top 41 U.S. markets. Referencing 18 market indicators ranging from unemployment rates and housing permits to rental vacancy and mortgage foreclosure rates, the Tides Index helps users understand exposure at a deeper level than is currently possible.

The fall in housing supply constituted the biggest movement among Index variables this month, as Redfin reported a decrease to just 2.9 months of supply at the current sales rate. This is tied with December 2016 for the tightest supply of housing on record since Redfin data began in 2010. Note that although the total number of homes listed for sale improved to 707k month-over-month, this increase was outpaced by a sharp increase in the rate of sales, pushing the months-of-supply measure lower. Substantial variation across local markets remains, but 40 of the 41 metropolitan areas tracked by Housing Tides show less than six months of supply, which is widely agreed upon as a healthy, balanced level.
Last month we highlighted the construction unemployment rate which had reached a 22-month high of 9.4% in January. As expected, latest data from the Bureau of Labor Statistics show industry unemployment dropped to 8.8% in February as homebuilders ramped up operations to begin the warm-weather construction season. The improvement in this metric partially offsets the negative effect of the decrease in housing supply on the Index.
Zillow reported a fall in asking rents for two-bedroom units to $1,500 per month in February, and January's figure was upwardly revised to $1,545 per month. Census data show rental vacancy remained near 7% in the first quarter, suggesting stability in rental prices in coming months. Availability of rental units and moderating rent costs are beneficial to prospective homebuyers that have been deterred by tight housing supply and rising home prices in recent years.
The median home sales price increased to $273k in March, up 4.5% month-over-month. The median sales price has increased 7.5% since March 2016, though home prices remain lower than the peak of $277k seen in June 2016. Extreme tightness in housing supply should continue this trend in the near future, and we wouldn't be surprised to see home prices surpass last year's peak as the summer proceeds.
The Consumer Confidence Index fell to 120.3 from its multi-year high of 124.9 in March, but the current level continues to indicate considerably optimistic consumer outlook in historical context. In a press release The Conference Board explained that "Looking ahead, consumers were somewhat less optimistic about the short-term outlook for business conditions, employment, and income prospects. Despite April's decline, consumers remain confident that the economy will continue to expand in the months ahead."
Single-family housing permits rose sharply in March, increasing more than 30% month-over-month. The Census Bureau reports 40,100 permits approved across the 41 metro areas we track, which is the highest total since June 2006. Multi-family permit approvals increased in March, but the six-month moving average fell to 23,900 permits per month.
Highlighting the Ten Healthiest U.S. Housing Markets - May, 2017 - Please reference the attached graph to view the Ten Healthiest U.S. Housing Markets.
Click here to view the complete Housing Tides Index of the top 41 U.S. markets.
Media Exclusive! Housing Tides Media Monthly Pulse
Subscribe to our email service exclusively created for media that delivers an updated infographic depicting the latest monthly Housing Tides Index, the complete Index as it appears in the Housing Tides Report™, and a brief executive summary. All content can be shared in print and digital publications, with attribution to the Housing Tides Report.
Members of the media can subscribe to the Housing Tides Media Monthly Pulse here.
About Housing Tides
Housing Tides™ ("Tides") is the only monthly report that provides a comprehensive measure and aggregated understanding of the health of the U.S. housing and home building industry. Designed to take the guesswork out of the vast amount of forecasting information published about this sector, Tides is a sophisticated report that delivers city-specific, updated information when market conditions change. It is the only report that uses natural language processing and machine learning to correctly understand and synthesize large volumes of data, making it more comprehensive, balanced, and reliable than any other report of its kind. More information is available at http://www.housingtides.com.
Housing Tides is proudly partnered with IBM Watson®.