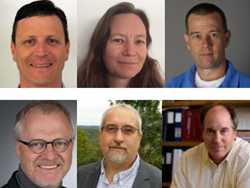 Yorba Linda, Ca (PRWEB) May 09, 2017
As part of the Protein and Cell Analysis Education Series, which provides free-access to a series of educational webinars, Thermo Fisher Scientific has announced the addition of an Antibody Validation Forum. Attendees will learn from a panel discussion with key scientific leaders as they address the antibody reproducibility crisis.
Reproducibility and antibody validation standards are two significant challenges facing scientific researchers today. To address these issues, Thermo Fisher Scientific, a leading producer of antibodies, supported a group of leading researchers from several global institutions. This International Working Group for Antibody Validation (IWGAV) brainstormed and developed a set of proposed standards to optimize antibody validation methods with a specific emphasis on antibody specificity verification.
In this event, Thermo Fisher Scientific will host a live, virtual round table discussion in which representative IWGAV members and others from the research community will participate in a dialogue about antibody validation standards and practices, with the goal of finding consensus for how to further methods for verifying antibodies target specificity, using tests such as Knockout, Knockdown, IP-Mass Spectometry and Cell Treatment.
Panel participants include:

Matt Baker - Director of Strategy and Partnering for Antibodies and Immunoassay, Biosciences Division, Thermo Fisher Scientific
Anita Bandrowski, PhD - Scientific Lead, Neuroscience Information Framework, Center for Research in Biological Systems, University of California at San Diego; Founder and CEO of SciCrunch
Aled Edwards, PhD - CEO, Structural Genomics Consortium, University of Toronto; International Working Group for Antibody Validation (IWGAV) member
Christoph Hergersberg, PhD - Vice President of R&D for Protein and Cell Analysis, Antibodies and Immunoassays, Biosciences Division, Thermo Fisher Scientific
John Rogers, PhD - Senior R&D Manager, Mass Spectrometry Reagents, Protein and Cell Analysis, Biosciences Division, Thermo Scientific
Paul K. Wallace, PhD - Professor of Oncology, and Director, Flow and Image Cytometry Facility, Roswell Park Cancer Institute; Associate Professor of Pathology, State University of New York at Buffalo
LabRoots will host the forum May 30, 2017, beginning at 9:00 a.m. PDT, with additional presentations to follow. For more information on the entire Protein and Cell Analysis Education Series, this event along with complete agenda of webinars and biographies on the speakers, or to register for free, click here.
*The use or any variation of the word "validation" refers only to research use antibodies that were subject to functional testing to confirm that the antibody can be used with the research techniques indicated. It does not ensure that the product(s) was validated for clinical or diagnostic uses.
For Research Use Only. Not for use in diagnostic procedures. ©2017. Thermo Fisher Scientific, Inc. All rights reserved. All trademarks are the property of Thermo Fisher Scientific and its subsidiaries unless otherwise specified. We hereby disclose that this email communication is for commercial purposes.
About Thermo Fisher Scientific
Thermo Fisher Scientific Inc. is the world leader in serving science, with revenues of $17 billion and more than 50,000 employees in 50 countries. Our mission is to enable our customers to make the world healthier, cleaner and safer. We help our customers accelerate life sciences research, solve complex analytical challenges, improve patient diagnostics and increase laboratory productivity. Through our premier brands – Thermo Scientific, Applied Biosystems, Invitrogen, Fisher Scientific and Unity Lab Services – we offer an unmatched combination of innovative technologies, purchasing convenience and comprehensive support. For more information, please visit http://www.thermofisher.com.
ABOUT LABROOTS
LabRoots is the leading scientific social networking website and producer of educational virtual events and webinars. Contributing to the advancement of science through content sharing capabilities, LabRoots is a powerful advocate in amplifying global networks and communities. Founded in 2008, LabRoots emphasizes digital innovation in scientific collaboration and learning, and is a primary source for current scientific news, webinars, virtual conferences, and more. LabRoots has grown into the world's largest series of virtual events within the Life Sciences and Clinical Diagnostics community.