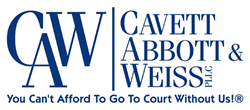 Chattanooga, TN (PRWEB) May 09, 2017
The Chattanooga law firm Cavett & Abbott, PLLC has announced effective May 1, 2017, the firm will be renamed Cavett, Abbott & Weiss, PLLC, to include Joshua P. Weiss as a named partner. Mr. Weiss joined as a partner to expand the firm's criminal defense and civil litigation practices in Tennessee and Georgia, in both state and federal courts. With a rich history and over sixty years of trial experience, Cavett, Abbott & Weiss has positioned itself as a leading legal advocate in the Chattanooga community. The firm will remain in the famous Pioneer Building at the corner of Eighth and Broad Street in downtown Chattanooga.
Within the legal community, Mr. Weiss has garnered a reputation for providing effective and zealous advocacy for all of his clients. "We want our clients to know that they are in the best of hands," explained John Cavett. "We enthusiastically welcome Mr. Weiss to the firm and we are thrilled to add his experience, talent and dedication to the firm's practice of law. An important area of practice for our firm is criminal defense and Mr. Weiss will greatly expand our ability to provide those services."
Mr. Weiss joined Cavett & Abbott as Of Counsel in 2013. In addition to his criminal defense practice, he supported and grew the firm's real estate and construction litigation practice significantly. John Cavett and Barry Abbott, already well-known as the local legal authority for real estate and title issues, hope to build stronger client relationships and provide greater access to the firm's legal services. Mr. Weiss will help advance the firm's civil litigation practice in the areas of personal injury, malicious prosecution, consumer protection and defamation. In addition to expanding the firm's civil litigation practice, Mr. Weiss brings with him a considerable criminal defense experience; he represents individuals charged with domestic assault, DUI, drug crimes, theft as well as all other misdemeanors and felonies. Licensed to practice law in both Georgia and Tennessee allows the new Cavett, Abbott & Weiss to assist those with criminal charges that straddle the state line.
Joshua Weiss earned dual bachelor of art degrees in Political Science and Latin and Classical Culture from the University of Georgia in 2007, and his juris doctorate from the University of New Hampshire School Of Law in 2011. Currently, Mr. Weiss lives on Signal Mountain with his wife Eden and their two dogs, Nola and Manny.
Cavett, Abbott & Weiss is also pleased to announce the publication of their new website, https://www.cawpllc.com/. The new, modern, user-friendly website, along with the news of Weiss joining the practice, establishes the firm's renewed dedication and commitment to providing the highest quality legal services for their clients. By retaining knowledgeable and experienced legal counsel, the firm's clients can feel confident when they appear for their day in court. When the risks are high and the value is great, Cavett, Abbott & Weiss says, "You Can't Afford To Go To Court Without Us!®"