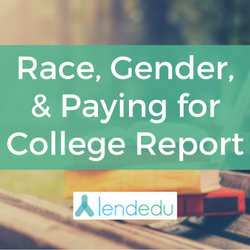 Hoboken, NJ (PRWEB) May 09, 2017
In 2017, the majority of college graduates are leaving campus with student debt. According to a new report titled Race, Gender & Paying for College by LendEDU, the impact of student loan debt goes beyond personal finances and varies depending on race and gender.
Highlights:

White males graduate with the most debt of any of our subgroups, and white females graduate with the second least amount of debt.
As a whole, females tended to graduate with less debt than their male counterparts, except for black females who had $272 more in debt than black males.
Asian males graduated with the second most debt, just $253 on average less than white males.
Hispanic/latino women graduated with the least amount of debt; they have $564 less to pay off than white women.
Women get less financial help from their families, yet women still have fewer loans to repay after college. 10% more females believe that student debt has made day-to-day finances more burdensome.
Asians get the most financial help from their parents paying for school. Nearly double the number of Asian respondents reported getting the majority of their college tuition paid for by their parents compared to the other races.
Nearly two thirds of student debtors said their current loans have made it harder to save for retirement.
Over 50% of student debtors said that the student debt has made starting a small business more difficult. Asian graduates are almost 10% more likely to feel that student debt has hindered their ability to start a small business.
Over the last decade, outstanding student debt has grown by 162% to an estimated $1.44 trillion. LendEDU created this report to study the financial, emotional, and personal externalities of student debt.
"Student debt has had a huge impact on my own life," said Nate Matherson, CEO/Co-Founder of LendEDU, "Student debt is a complex issue that influences our financial lives, but also our emotional states and our ability to grow our personal lives. We hope that our survey and report captivates current students, parents, educators, and our elected officials."
LendEDU conducted the survey in April 2017 using Pollfish. In total, LendEDU collected responses from over 1,400 respondents. All respondents were screened to be a 4-year college graduate who is currently working to repay student debt. All respondents self reported race and gender data. Student debt data was self reported by the respondents and was not verified by LendEDU.
About LendEDU
Since 2014 LendEDU has delivered free financial aid resources to high school and college students. LendEDU is a marketplace for student loans and student loan refinancing. LendEDU helps graduates find the lowest student loan quotes with one application. The company is partnered with all of the leading student loan companies including SoFi, Citizens Bank, Sallie Mae, College Ave, Earnest, LendKey, Darien Rowayton Bank, among others.
LendEDU was founded by Nate Matherson and Matt Lenhard in August of 2014. LendEDU is a graduate of Y Combinator's W16 class, the Iowa Startup Accelerator, and the Horn Program at the University of Delaware.
For more information, please contact:
Dave Rathmanner
Email: dave.rathmanner(at)lendedu(dot)com
Phone: 302-584-0389