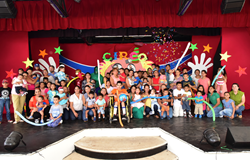 Cancun, Quintana Roo (PRWEB) May 09, 2017
The Theater at Sunset Royal received more than 50 children this Saturday, April 29th to celebrate Children's Day, which is celebrated every April 30th in México
Two charities that help children with special needs and their families were invited to the event: "Cancún Pro Kids" helps children, teens and women in vulnerable situations, and "Michelle's Place" helps disabled children.
Many Sunset Royal workers participated this Saturday in the celebration preparing and rehearsing in advance in order to offer an unforgettable show for these children. "As a socially responsible company we always look forward to bringing happiness and seeing smiles on children's faces," was the general opinion of the Board of Directors of Sunset World.
The day started at 9:00 am with a delicious and healthy breakfast made especially for the children by Sunset World's Culinary Team. After the show, presents and candies were given to all the attendees.