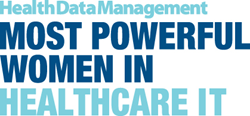 Join industry leaders in recognizing these amazing women
Boston, MA (PRWEB) May 09, 2017
Kinvey, the leading HIPAA compliant Backend as a Service (BaaS), today announced that they will be the Technology and Innovation Track sponsor at the Most Powerful Women in Healthcare IT recognition event on May 17th at the Sheraton Boston Hotel. The conference will honor the award winners and will offer professional development, mentoring, and networking time for women in the industry.
This is the second annual event hosted by SourceMedia, publishers of HealthData Management. The program recognizes the extraordinary contributions of women in the field of health information technology, including:

Health Information Technology (HIT) Leaders (CIO, CMIO, CSO, VP of IT)
Industry Thought Leaders/Influencers
Technology Vendor Executives
Honorees are being recognized for their efforts in driving technology innovation, overcoming organizational and technology barriers, deploying cutting-edge technology, shaping IT regulation and policy, and implementing healthcare technology that dramatically increased patient safety and health organization efficiency. Special attention was given to those candidates who have mentored female staff or peers and elevated the status of women in the profession.
"Women have been innovating in healthcare IT for years, but have lacked recognition," said Margaret Rimmler, Vice President of Marketing at Kinvey. "Now is the time to raise the awareness and recognize these award winners for their years of hard work and achievements."
Hospital, health system and clinic executives, and health plan and payer executives should attend this recognition event to honor these award winners. Register here to join the celebration.
About Kinvey
Kinvey provides a fully integrated HIPAA compliant app cloud delivered as a Backend as a Service (BaaS). The service provides everything needed to build and run native, hybrid, web, and IoT digital health applications. Kinvey customers deliver applications 86% faster, dramatically shortening the timeline from idea to implementation. With Kinvey's decoupled architecture, client application developers are masked from the nuances of EHR and enterprise system access and performance issues and pre-built services mean less code to write, test, and maintain. Kinvey is a leader in The Forrester Wave™: Mobile Development Platforms, 4Q 2016.