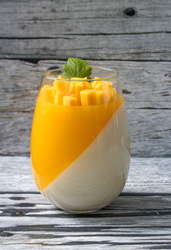 "We're seeing a big demand for tropical fruit as restaurants continue to explore global flavors and look for unique ways to compliment heat- and spice-driven menus," -- Becky Westby, director of foodservice and ingredients sales for Oregon Fruit Products
Salem, Ore. (PRWEB) May 10, 2017
Oregon Fruit Products will kick off the National Restaurant Association Show with two new Fruit In Hand flavors for the food service industry: Mango Velvet and Pink Guava Velvet. Fruit in Hand is a unique pourable diced or velvet-smooth fruit base designed to add the sweetness, aroma and texture of real fruit to beverages, cocktails, smoothies, desserts, sauces, savories, toppings, and breakfast applications.
Mango Velvet has a rich, sweet flavor that has become more widely popular. Pink Guava, a lesser-known fruit in the U.S., is reminiscent of similarly sweet and medium-acid fruits such as papaya, melon, and pear, with a very aromatic, rich bouquet.
"We're seeing a big demand for tropical fruit as restaurants continue to explore global flavors and look for unique ways to compliment heat- and spice-driven menus," says Becky Westby, director of foodservice and ingredients sales for Oregon Fruit Products. "Fruit in Hand tropical purees are a particularly attractive solution as the pricing, ripeness and availability for these types of imported fresh or frozen fruit can vary widely. Using Oregon Fruit purees allows our customers to develop creative new menu items while saving on high in-house labor costs and food waste."
Oregon Fruit Products will be sampling a wide selection of drinks and dishes made with Pink Guava Velvet and Mango Velvet Fruit In Hand, as well as other flavors, at booth #2285 the National Restaurant Association show, May 20-23, 2017 in Chicago. For more ideas on how to use Fruit in Hand, please visit http://www.fruitinhand.com.
About Fruit in Hand
2015 FABI-award winner Fruit in Hand is made by hand-selecting fresh fruit picked at the peak of ripeness. It is manufactured using a cold process to maintain the vivid flavor and color of the fruit and lightly sweetened with cane sugar to enhance the fruits' natural sugars. It contains no artificial flavors or colors, no high fructose corn syrup and has less sugar per serving than fruit syrup or jam. It is certified Kosher, gluten-free and is non-GMO. Using Fruit in Hand couldn't be easier: it ships frozen in 35 fl. oz. bottles, defrosts within hours under refrigeration, and stays fresh for up to two weeks.
Oregon Fruit Products LLC
Founded in 1935, Oregon Fruit Products offers a complete line of canned, frozen and shelf-stable premium fruit for consumers, foodservice operators and ingredient sales. The company is located in Salem, Oregon and can be found on the web at http://www.oregonfruit.com.