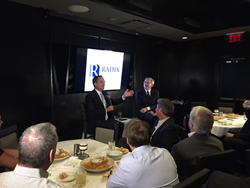 I'm always happy to share insight with Arizonans on the reasoning behind the policies and changes happening in Washington," said Congressman David Schweikert.
Scottsdale, Arizona (PRWEB) May 11, 2017
There have been big shock waves coming out of DC, but Wednesday night's event in North Scottsdale went deeper to uncover the policy behind the politics. With an audience of approximately 75 local business leaders, Jonathan Frutkin of Radix Law led a moderated discussion with Arizona Congressman David Schweikert about how changes in the administration impact businesses and specifically, the local economy.
Jonathan Frutkin's practice focuses on business and corporate law, and he is a respected source in how companies can harness crowdfunding potential. Just recently, Frutkin was listed as one of Arizona's Top 100 Lawyers of 2017.
"In just the last few months of this current administration, we've already seen so many developments that impact our clients, their businesses, and the future of Arizona in general, so it's important for all of us to stay informed on what's happening in Washington," said Jonathan Frutkin, founder and principal of Radix Law. "We appreciate Congressman Schweikert taking the time to talk to our group."
No topic was off-limits as Congressman Schweikert and Frutkin discussed several "hot button" issues regarding the first 100 days of the Trump presidency, including the President's Twitter usage, his tax returns, policy proposals, political appointments and more.
"Being on the U.S House Committee on Ways and Means as well as the House Freedom Caucus has given me a unique perspective on the current happenings in Washington, so I'm always happy to share insight with Arizonans on the reasoning behind these policies and changes," said Congressman David Schweikert.
David Schweikert is serving his fourth term in the United States Congress. He is only the second Arizona member to hold a seat on the Ways and Means Committee, having previously served on the Financial Services Committee. As a strong advocate for efficiencies in the 21st Century economy, Schweikert collaborates with entrepreneurs and innovators in Arizona and around the world on ways to increase trade and drive economic growth.
Jonathan Frutkin is a frequent media contributor and has appeared in The Economist, Kiplinger Personal Finance and The Washington Post. For more information on Radix Law and practice areas, visit http://www.radixlaw.com.