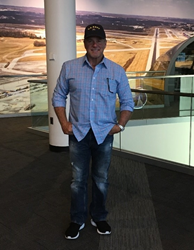 "It is my personal belief that we need to share in the blessings we have been fortunate to have received in our lives with those who most need it," says Mr. Claycomb.
Phoenix, Arizona (PRWEB) May 10, 2017
Lloyd Claycomb recently attended a non-profit Autism Research Organization Annual Community Breakfast fundraiser, where he discussed the organization's groundbreaking programs.
"It is my personal belief that we need to share in the blessings we have been fortunate to have received in our lives with those who most need it," says Mr. Claycomb. "I know wonderful people who've been touched by ASD, and they've struggled to get the support they need to ensure a happy and healthy life for their children. It's time that autism becomes accepted and understood."
Recently, more than 1,800 guests attended the local charity event which gave the diverse crowd of families, benefactors, and community leaders the opportunity to hear and share stories of the triumphs and milestones that have been achieved across the past two decades. Mr. Claycomb is a recurring donor towards autism research, and many other organizations such as Child Help Foundation.
Child Help Foundation, an organization dedicated to helping child abuse survivors overcome the physical, emotional, and spiritual trauma of neglect, violence, emotional abuse, and exploitation. To date, Mr. Claycomb has donated $50,000 to the Child Help Foundation.
Claycomb's diverse community work includes his position as National Director to The Navy League of the United States, Furthermore, Claycomb serves on the board of directors for Adventist World Aviation and the Maricopa County Youth Assistance Foundation, and maintains executive roles in the nonprofit organizations Waves of Grace International Ministry and Our Warriors at Home.
In January 2017, Claycomb offered his services as voluntary auxiliary to the Bonner County Sheriff's Department, and was duly sworn in as a Special Deputy Sheriff by Sheriff Daryl Wheeler. A certified jet pilot with more than 5,000 hours of flight time in assorted aircraft, Mr. Claycomb routinely donates his personal jet helicopter to the Bonner County Sheriff's office to supplement their Search & Rescue and SWAT services.
In addition to his personal financial donations, nonprofit leadership appointments, fundraising efforts, and community work, Claycomb has leveraged his considerable social and business influence into significant exposure for ASD and child abuse initiatives. As a member of President Trump's Transition Committee, he was able to share insights into his numerous philanthropic endeavors. Before taking his appointment, Mr. Claycomb was a large donor to the Trump presidential campaign, and served as a 2016 State Victory Finance Chair for the Republican National Committee.
"It is estimated that one in 68 children will be diagnosed with autism," says Claycomb. "While that seems like an impossible number, there have been so many advances in diagnostic criteria and education in the past 20 years that we're able to provide an unprecedented level of support to ASD children, adults, and their families."
Lloyd Claycomb continues, "With the right resources, programs, and empowerment, we can give ASD children the tools to live productive and fulfilling lives. We want the world to view autism as a challenge, not a curse – a part of the fabric of the colorful human tapestry."
Lloyd Claycomb can be contacted via Twitter or through his website.