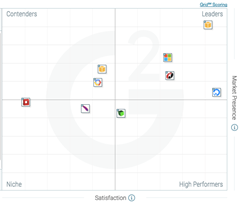 Chicago (PRWEB) May 08, 2017
G2 Crowd, the world's leading business software review platform, today released the Spring 2017 Infrastructure as a Service Software Grid report to help businesses make the best infrastructure as a service technology buying decision. Amazon S3, DigitalOcean, Microsoft Azure and Rackspace Managed Cloud were named Leaders in the report, receiving a strong customer satisfaction score with a large market presence.
Linode was named a High Performer in the report, earning strong customer satisfaction marks with smaller market presence scores. DigitalOcean earned the highest overall satisfaction score, while Amazon S3 earned the highest overall market presence score.
The Grid leverages customer satisfaction data reported by authenticated users along with vendor market presence determined from social and public data. Based on a combination of these scores, each software solution is categorized as a Leader, High Performer, Contender or Niche.
Key Findings:
•Amazon Dominates Marketplace — This may be common knowledge, but Amazon is a big player in the Infrastructure as a Service market. The vendor holds two of the three highest Market Presence scores in the category. While S3 was second to only DigitalOcean in Satisfaction score, Amazon VPC was fourth lowest.
•Support is Spotty — The most frequently cited issues with IaaS products was obtaining support. Large vendors performed poorly for the most part, while smaller products succeeded. Ease of Setup and Quality of Support were the two lowest average Satisfaction scores in the report at 83% and 82%, respectively.
•Providers are Reliable — Users frequently discussed their trust in their provider's infrastructure. These tools did not often falter or provide inconsistent functionality, according to reviewers. It appears end users are putting a lot in the hands of providers and they have not disappointed.
About the Infrastructure as a Service Software Grid report:
•The report is based on more than 393 reviews written by business professionals.
•Of the 56 products listed in G2 Crowd's Infrastructure as a Service category, the ranked products each received ten or more reviews to qualify for inclusion on the Grid.
About G2 Crowd, Inc.
G2 Crowd, the world's leading business software review platform, leverages more than 150,000 user reviews to drive better purchasing decisions. Technology buyers, investors, and analysts use the site to compare and select the best software based on peer reviews and synthesized social data. Monthly more than a half-million people visit G2 Crowd's site. Co-founded by the founder and former executives from SaaS leader BigMachines and backed by roughly $12 million in capital, G2 Crowd aims to bring authenticity and transparency to business technology research. For more information, go to G2Crowd.com.