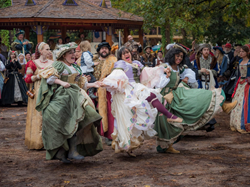 HOUSTON, TX (PRWEB) May 09, 2017
Rejoice faire lads and ladies! A proclamation set by the King and Queen of the Texas Renaissance Festival marks Saturday, May 20, 2017 as the date of this year's Ticket Sale of the Century. Each year, the nation's largest and most acclaimed festival of food, fun and 16th century magic lowers admission for a limited time, giving fans an opportunity to get ahead of their fall weekend plans at a bargain price.
The Ticket Sale of the Century is online only from 10 a.m. to 10 p.m. with prices set at only $10.95 for adults, a discount of 65 percent off regular admission price.The Ticket Sale of the Century ends at 10 p.m. on May 20, thereafter ticket prices go up to $23.95 (Advance Discount) and $30 (Regular Adult Admission). Military, First Responder and Group Discount tickets will be offered at $20 for adults and $10 for children. Up to 30 tickets may be purchased per transaction.
Coming off a record breaking season, the Festival – recently voted one of the best festivals in the world by Everfest – added a new themed weekend to the long-standing mix, Heroes and Villains.
Exciting perks for parents: Ticket Sale of the Century tickets are good for both adult and child admission. Regular child admission is $15 at the gate and $12.95 if purchased in advance. Admission is free for children under the age of four throughout the season, and kids 12 and under are admitted free of charge every Sunday.
Also ending on May 20 is the opportunity to purchase discounted Season Passes. The Gold Pass ($195.95 for early birds) offers 19 days of Festival admission at the incredibly low price of $10 per day (with free admission to TRF After Dark every Saturday thrown in). The King's Pass ($395.95 for early birds) includes Festival admission, nine weekends of camping, free Preferred Parking and TRF After Dark admission. Beginning May 20, prices go up to $245.95 for the Gold Pass and $495.95 for the King's Pass. They can be purchased online only: https://www.texrenfest.com/Season-Pass/
Located just one hour north of Houston, the Texas Renaissance Festival will take place over eight exciting weekends from Saturday, September 30 through November 26, 2017. Each weekend, a different theme comes to life across the 55-acre festival grounds including; Oktoberfest, 1001 Dreams, Pirate Adventure, All Hallows Eve, Roman Bacchanal, Barbarian Invasion, Highland Fling, Celtic Christmas and the newest addition, Heroes and Villains.
Texas Renaissance Festival has something for everyone, including an exciting 16th century village complete with five enchanting wedding venues, over 400 shoppes from which to purchase unique and handmade items by local artisans and merchants, as well as a student-only School Days event. The Festival also boasts 200 acres of campgrounds for tent camping and RVs, and TRF After Dark, an after-hours entertainment venue for adult patrons.
About Texas Renaissance Festival
The Texas Renaissance Festival is the nation's largest and most acclaimed Renaissance themed event. Established in 1974, the event attracts over half a million visitors each year to its 55-acre New Market Village and Fields of New Market Campgrounds in Todd Mission, Texas. This immersive experience features world-renowned live entertainment, works by master artists and craftspeople, award winning food and drink, hand-powered rides and games, and over 100 interactive characters during its eight themed weekends from September 30 through November 26, 2017. For more information, please visit http://www.texrenfest.com.
SOCIAL MEDIA:
Follow us and lift up your cares!
Twitter: @Texrenfest
Instagram: @Texrenfest
Facebook: https://www.facebook.com/texrenfest
#texrenfest #HUZZAH
For high-res photography, free B-roll and interview requests, please contact Natalie Collett with Love Advertising.