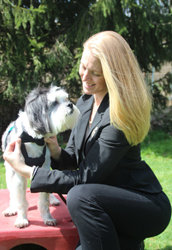 "There is no doubt that including dogs in weddings is a growing trend," said Joanne Morris, vice president of Morris Animal Inn. "After all, pets are members of the family and such a momentous occasion would not be complete without them."
Morristown, N.J. (PRWEB) May 09, 2017
For many couples, including their four-legged family members in their nuptials is a dream come true. But doing so can be fraught with challenges—from dirty paws on the bride's gown to Bowser helping himself to the buffet. To make a pet's presence perfect on the big day, Morris Animal Inn, an innovative leader in pet care, is now offering wedding services to help more couples say "I do" beside their dogs.
Couples have enough to worry about on their wedding day, so Morris Animal Inn's new comprehensive wedding services provide professional, loving care for dogs before, during and after the wedding celebration. Transportation to and from the wedding, pre-wedding grooming and styling, a personal attendant for ceremonies and photos, and post-wedding overnight luxury accommodations are just some of the services that can be individually tailored for each dog at the request of the bride and groom.
"There is no doubt that including dogs in weddings is a growing trend," said Joanne Morris, vice president of Morris Animal Inn. "After all, pets are members of the family and such a momentous occasion would not be complete without them."
Wedding services can be customized and can include:

Chauffeur service to and from the ceremony and reception with a personal attendant in Morris Animal Inn's specially equipped van.

Grooming and Salon Services
A pre-wedding bath, grooming and styling so dogs can put their best paws forward for the photo shoots and as guests.

A professionally-trained personal attendant will handle a dog's every need, so the couple doesn't have to worry. As a responsible caregiver, the attendant will assist with pets in photo shoots, meal time, bathroom breaks—or whatever is required.

Following the festivities, dogs are chauffeured back to Morris Animal Inn, a five-star luxury pet resort, to have their own getaway while the newlyweds honeymoon.
Morris Animal Inn is a state-of-the-art pet spa and resort offering superior amenities for dogs and cats including a heated indoor pool, whirlpool, pet suites with soothing music and videos, skylights, indoor and outdoor play areas, pampering and activities packages, daily maid and room service, Happy Hour with homemade pet treats, tuck-in service and more.
Located on a quiet country lane with over 12 acres, the facility was designed to provide for both the comfort and safety of all pet guests. Morris Animal Inn is climate-controlled with purified air and filtered water for the optimal health of animals, smoke and sprinkler systems, back-up generators, 24-hour surveillance cameras and the capability for daily floor-to-ceiling sanitizing for the cleanest environment. Perimeter fencing encloses the facility.
To learn more about wedding services, visit http://www.morrisanimalinn.com or call 973-539-0377.
About Morris Animal Inn
Morris Animal Inn is an internationally recognized, full-service luxury pet resort for dogs and cats located in Morristown, NJ. Established in 1960, the award-winning, family-owned country inn is a state-of-the-art facility offering lodging, spa services, grooming, training, day care and camp. For more information, visit http://www.morrisanimalinn.com or call 973-539-0377.
###