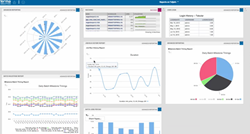 In today's dynamic cloud environments, analytics have become pivotal
Boulder, CO (PRWEB) May 09, 2017
Terma Software's CEO Shane Hade has been asked to present on the topic of Leveraging Predictive Analytics for Optimizing & Managing Workload Environments.
Shane Hade, CEO of Terma Software stated, "we are honored and excited to be a part of ASAP 2017. Our presentation will focus on the area of multi-vendor and cross platform predictive analytics for workload automation environments. In today's dynamic cloud environments and IoT, analytics have become pivotal in managing and leveraging these areas to their fullest potential."
In this session attendees will learn how Advanced Workload Analytics from Terma Software is used to optimize complex, single and multi-vendor workload environments through their single-pane-of-glass analytics platform. The discussion will include workload design best practices, using the platform for visually understanding your workload environment, and a use case for managing the process for migrating to IWS from competing workload scheduling products. Additionally, it will demonstrate how to analyze a workload environment through our visualization platform and then optimize and monitor its performance in real-time leveraging our predictive analytics engine. Advanced analytics BI reporting for on-going operational management and continuous workload improvement will also be covered.
About TERMA SOFTWARE
Over the past decade Terma has developed the industry's most comprehensive knowledge of workload data and the ability to leverage that understanding to provide measureable business analytics. Terma's products, TermaUNIFY (formerly JAWS), TermaINSIGHT, and TermaVISION enable companies to optimize their workload processing and realize more value from their automation tools by providing SLA management, forecasting, prediction, business intelligence, reporting, simulation, and modeling for CA Technologies' CA 7 and AutoSys, and Cisco's Tidal Workload Automation. Availability for both IBM IWS and BMC ControlM are coming soon. The products are available as SaaS and on-premise solutions. The solution ensures that companies can lower their costs and improve the reliability and performance of their mission critical workloads.
For more information, please contact Jim Anderson at 303.396.0454 or email Jim(at)TermaLabs.com.