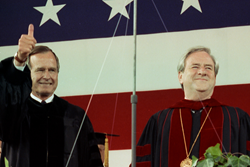 "Here at Liberty, you've shown how 'a thousand points of light' can become a galaxy of people working to solve problems in their own backyard." -President George Bush (at Liberty University 05/13/1990)
(PRWEB) May 08, 2017
Inside the newly constructed Williams Stadium on Saturday, May 12, 1990, a crowd of about 16,000, including 1,700 Liberty University graduates, watched Marine One, transporting President George H.W. Bush, whiz overhead, landing just outside the stadium grounds. It was a historic day on campus as Liberty prepared to host its first sitting U.S. president for Commencement. While students understood that there was something special about their young school and the vision of its founder, Dr. Jerry Falwell (who they affectionately called "Doc"), that moment in 1990 when the leader of the free world stepped foot on campus drew the eyes of the nation to a small town in Central Virginia.
"Your own graduation is important," recalled Paul Nazigian, a member of the Class of 1990. "Once they announced that (President Bush was going to be the Commencement speaker) we were like, 'Wow. Our graduation just became important to the whole country.' It was like Liberty was instantly on the map on another level."
Louis Cambeletta, a fellow 1990 alumnus and current vice president of auxiliary services at Liberty, remembers how he and his classmates "freaked out" over the news.
"I remember I felt like one of the most important graduates on the planet," he said.
Bush had visited Liberty before — in 1983 as U.S. vice president — but hosting him as president sent a strong message to the country.
"If you were here then, you knew the university was great," Cambeletta said. "But (Bush's visit) made people look at Liberty and say, 'Wow. What is so special about them that President Bush is going to speak at their Commencement?' Not only did it validate me as a graduate, but it really validated the school."
While today Liberty boasts more than 15,000 residential students and almost 90,000 studying online, in 1990 residential enrollment was about 5,200, with over 12,000 taking distance learning courses. And while today Liberty is nearing completion on a $1 billion rebuilding of campus, with new academic and athletics facilities as well as high-rise residence halls, the property in 1990 had only just begun to resemble a college campus. The first major landmarks had just been built, including the Vines Center and DeMoss Hall. Williams Stadium had been completed about seven months earlier.
But the vision that Falwell had when he founded Liberty in 1971 was still very much alive. That vision was to build a university that would become a premier liberal arts institution for evangelical Christians, just as Notre Dame is for Catholics and Brigham Young is for Mormons. Falwell dreamed of a school that was second-to-none in academics and athletics while remaining true to its foundation of faith.
"Dr. Falwell was very vibrant and active in politics," Nazigian recalled. "For (Falwell) to get the president to come to campus … it showed what influence and vision he had. Bush's visit really legitimized a lot of what Dr. Falwell was telling us about what Liberty was going to be; it helped us believe it even more. We understood that this wasn't just a celebrity coming to campus; there was a purpose. It affirmed Doc's vision of what the school would stand for — historic American values and Christian principles."
Both alumni recalled the increased security of the day, how students were asked to remain in place as several helicopters flew overhead. They remember seeing snipers atop residence halls and other security agents around the stadium.
President Bush flew into Lynchburg from Roanoke. Joining him on Marine One was First Lady Barbara Bush, along with Falwell and his wife, Macel.
In his introductions, Falwell lauded President Bush's accomplishments, saying that "no president has ever been better prepared to enter his first term of office than George Bush." Falwell also recognized the First Lady for her contributions.
The nation's 41st president was awarded an honorary Doctor of Humanities degree. In his 20-minute speech, Bush praised Liberty for its uncompromising faith and lauded its graduates for their numerous charitable efforts, including local service for unwed pregnant women and recovering addicts, as well as relief work overseas in Kenya, Korea, and Costa Rica.
"Here at Liberty, you've shown how 'a thousand points of light' can become a galaxy of people working to solve problems in their own backyard," Bush said.
The president's words not only encouraged the graduates, but challenged them to continue to make an impact.
"Remember, individually, we can change a life. Collectively, we can change the world," Bush said. "Each of you can reject membership in a 'Me' generation, proving that yours is the 'We' generation, and show how a definition of a successful life must include serving others."
The quote was included in USA Today's roundup of Commencements across the country, published on May 17, 1990. The Associated Press story hit newsstands nationwide. (Read coverage from the Roanoke Times.) The Lynchburg News & Advance interviewed Ann Compton, a White House reporter for ABC at the time, who noted that Bush appeared much more relaxed at Liberty than he did earlier that day at the University of South Carolina's Commencement.
"(Bush) knows Jerry well, and I think he was having fun up there," Compton told News & Advance Staff Writer Mike Anderson. "You could tell he was having a good time. ... it was fun to see the president hotdog it by waving out the window when his helicopter flew over (the stage)."
This Saturday, almost 27 years to the day since President Bush came to Liberty, the university will once again host a sitting president for Commencement. As in 1990, there will be heightened security and a unique excitement among graduates who know their Commencement is one for the history books. And while the eyes of the nation will again be on Liberty when the 45th President of the United States, President Donald J. Trump, arrives, the university will do more than reflect upon the vision of its founder — it will proclaim that vision, which is now fully realized, as more than 18,000 graduates are sent into the world as Champions for Christ.
About Liberty University
Liberty University, founded in 1971, is the largest private, nonprofit university in the nation, the largest university in Virginia, and the largest Christian university in the world. Located near the Blue Ridge Mountains on more than 7,000 acres in Lynchburg, Va., Liberty offers more than 550 unique programs of study from the associate to the doctoral level. More than 250 programs are offered online. Liberty's mission is to train Champions for Christ with the values, knowledge, and skills essential for impacting tomorrow's world.