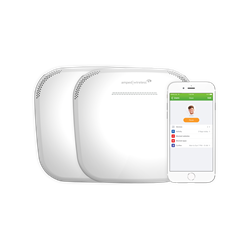 Ontario, CA (PRWEB) May 09, 2017
Amped Wireless, the leading manufacturer of high power, long range wireless solutions, is introducing a new tool for businesses to secure and improve Wi-Fi for customers and employees. The ALLY Plus Smart Business Wi-Fi System is the first of its kind. It eliminates connection lag times for multiple users with fast AC2100 speeds and MU-MIMO technology, has blazing fast speeds and long range, seamless coverage up to 15,000 square feet to reach every corner of an office, warehouse, restaurant or storefront.
The ALLY Plus gives small business owners and managers the ability to manage their Wi-Fi security and access from anywhere via a mobile app. This added layer of control lets managers and owners maximize productivity and security by denying access to unknown devices attempting to connect to the network. Managers can also set time-of-use rules for employees and customers individually. Additionally, the app can be used to create customized user profiles, to manage and limit access to selected content, websites or apps, review an activity log, even pause Internet access. The profiles themselves are flexible too. Users can assign a set of privileges to an individual employee or place an entire department under one profile with the same privileges. For businesses with customer-facing Wi-Fi, separate usage privileges can also be made for patrons versus employees. Business owners now have full and complete control over their network, in the palm of their hand.
Businesses can also feel at ease knowing that devices on their network are protected by AVG security products, which are a part of Avast, the global leader in digital security. Customers can download the free ALLY app and help safeguard devices from malware by activating AVG's free, built-in web protection and real-time monitoring of network traffic. ALLY's security features, parental control options and iOS and Android apps are built on Chime, the AVG smart router platform.
In addition to the advanced software and security, the ALLY hardware is also ahead of the innovation curve. All units are built with next generation 802.11ac, Multi-User MIMO technology. Traditional Wi-Fi systems stream data to just one device at a time, leaving the rest of the devices to wait their turn which results in slower downloads and video buffering. With MU-MIMO and ALLY ultra-fast, AC2100 Wi-Fi means everyone can stream HD content, take VOIP calls and video conference in multiple locations in the business at once. ALLY features a single SSID with seamless roaming capabilities so users can roam freely within their office, shop or warehouse without network interruptions. Pair that with Amped Wireless' award winning High Power Technology for unparalleled reliability, coverage and performance.
Setup of the ALLY Plus requires no prior technical experience and no IT department. The ALLY app gets the network up and running in a matter of minutes with easy to follow, step by step instructions.
ALLY Plus (ALLY21C) is priced at $329.99 and is available and shipping to customers now. For purchase information and additional details visit ampedwireless.com/products/ally21c.html.
About Amped Wireless
Amped Wireless is an award-winning provider of long range, wireless consumer and business communication products for the home and office. Ranked 16th in the 2013 Inc. 500 and 1st in the Computer Hardware Industry, Amped Wireless' mission is to develop the highest quality, long-range wireless products through experience, passion, innovation and advanced technology that exceed customers' needs and expectations. For more information on Amped Wireless, The Leader in High Power Wireless Solutions™, please visit the Amped Wireless website at http://www.ampedwireless.com.
About Avast
Avast (http://www.avast.com), the global leader in digital security products for businesses and consumers, protects over 400 million people online. Avast offers products under the Avast and AVG brands that protect people from threats on the internet and the evolving IoT threat landscape. The company's threat detection network is among the most advanced in the world, using machine learning and artificial intelligence technologies to detect and stop threats in real time. Avast digital security products for Mobile, PC or Mac are top-ranked and certified by VB100, AV-Comparatives, AV-Test, OPSWAT, ICSA Labs, West Coast Labs and others. Avast is backed by leading global private equity firms CVC Capital Partners and Summit Partners.