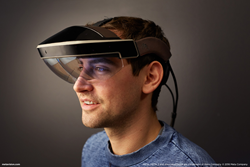 San Mateo, Calif. (PRWEB) May 09, 2017
Augmented Reality (AR) pioneer, Meta, has been named the winner of a Silver Stevie® Award for Technical Innovation of the Year in the 15th Annual American Business Awards for its Meta 2 Development Kit. The award recognizes a singular standout innovation in technology, new products, etc., by an organization with up to 1,000 employees.
The Stevie Awards honor achievement in every aspect of work life, from customer service and management to public relations and product development. This year more than 3,600 nominations were reviewed in the judging process by more than 190 professionals, whose average scores determined the winners. Here is what several judges had to say about the Meta 2 Development Kit:

"Groundbreaking technology with innovative model that is going to be successful long term."
"Real time, interpersonal, evolutionary, Meta 2 will eclipse their chosen markets."
"I am extremely impressed with this product. I can easily see how VR is the future, and I think the Meta technology is the first step towards creating a fully immersive and comfortable experience for the user."
In December 2016 Meta began shipping to select individual and enterprise developers its Meta 2 Development Kit, which delivers a totally immersive experience unlike any other AR product to date. Meta 2 enables people to use their hands to interact with holograms so they can touch, grab, create, and share digital content. The technology holds promise in application to numerous markets, including product and building design, education, workplace productivity, manufacturing, and medicine.
"We are thrilled to receive this Silver Stevie Award for Technical Innovation of the Year for the Meta 2," said Meron Gribetz, Meta founder and CEO. "This award further confirms the importance of the innovative technology we are developing that will change the way we communicate, create, and collaborate on a daily basis."
For more information about the Stevie Awards and to view the complete list of 2017 winners, visit http://www.StevieAwards.com/ABA.
About Meta
Born in NYC and raised in Silicon Valley, Meta has been defining the field of AR since the company's inception in 2012. After a successful Kickstarter campaign, Meta was selected by Y Combinator (YC13) for seed funding. Meta entered the marketplace with the first see-through glasses that allowed wearers to move and manipulate 3D content intuitively, using natural hand interactions. With the introduction of the groundbreaking Meta 2 product at TED 2016, Meta is once again redefining the market and delivering a new generation of Natural Machines™ that will become a healthy, vital extension of who we are.