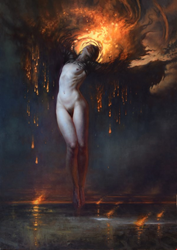 New York, NY (PRWEB) May 09, 2017
The Art Renewal Center (ARC), a non-profit educational foundation dedicated to realist art and skill-based training techniques in the visual arts, is proud to announce the 12th International ARC Salon Exhibition. The show will consist of 83 Contemporary Realist works selected from 3,100 entries representing 63 countries. The most prestigious realist art competition in the Americas, the International ARC Salon offers over $100,000 in cash awards, as well as international recognition through partnerships with prestigious magazines, galleries, museum exhibitions, and a strong online presence. The ARC Salon Exhibition will be on view at the Salmagundi Club, 47 Fifth Ave., New York, NY from May 12th – June 1st, 2017. The press-preview will be on May 12th from 1-2pm and the public opening event is on Saturday, May 13th from 11am to 3pm. Entry is free. The exhibition will then be on view again at the MEAM Museum, Barcelona, Spain from September 23 – November 27, 2017 with the opening event starting at 7pm on September 22nd and artist forum on September 23rd starting at 11am. While in Barcelona, the ARC Salon's works will be mounted at the same time the MEAM mounts its 9th Figurativas Painting and Sculpture Competition to celebrate an intense collaboration between Europe and America for representational art.
Top awards included in the exhibition are the Best in Show, which was awarded to Tenaya Sims for his painting Semillas; First Place Figurative, which went to Jeffery Larson for his work Laundry Day; First Place Imaginative Realism, which went to 5th Circle, by Robert Liberace; First Place Portraiture, which went to Emanuela De Musis; First Place Landscape, which went to Dave Santillanes; and The Da Vinci Initiative Award for the Young Aspiring Artist, which went to 15-year old Ray Wanda Totanes for Perception of Self.
Kara Lysandra Ross, chief organizer of the exhibition and Chief Operating Officer of the Art Renewal Center, says, "Realism in the visual arts is something inherent to human existence. From the earliest beginnings of humanity, our species had an innate desire to depict the world around them and express what it is to be human through realistic imagery. From the first cave man drawings, to Ancient Rome and the High Renaissance, all the way through to the 19th century, realism was the chief form of artistic expression. The onset of Modernism and its ideology almost destroyed thousands of years of the accumulated realist art training and knowledge. . This knowledge was preserved through the work and dedication of a handful of artists who continued to train in this style. There has been a shift back towards realist art in the past 30 years and it is an expanding movement. The Art Renewal Center promotes the idea that realism captures the contemporary way of life, and is both self-explanatory and timeless. It is a unique form of communication that is universally understood by people of all races and nationalities for generations to come."