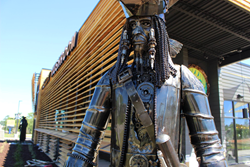 The menu at Mellow Mushroom is just as much fun and eclectic as its' art work. Signature Pizza selections such as the "Kosmic Karma" or "Holy Shiitake" reflect the irreverent vibe.
Mobile, AL (PRWEB) May 09, 2017
Approximately 20 minutes away from Mobile Bay, a buccaneer named Chad Hicks planted another flag in the heart of Alabama. This time he wanted to showcase the Gulf coast utilizing imagery of pirate life and their ships. Welcoming guests outside are a couple of familiar captains of the sea, Jack Sparrow and the ever-lovable Captain Barbosa. Once inside, the feeling of being on the main deck surges when patrons notice ropes dangling from the rafters. The queen of the Krakens resides above the kitchen making sure that every stoned baked pizza is cooked to perfection. The dining room at Mellow Mushroom has a feature table cut from a tree trunk with a wooden mosaic design that seats a party up to eight, found right underneath the light fixture made from recycled drums. The motif extends all the way to the climate controlled patio that is furnished with painted skateboards from the "Flow Show" whose funding helps support the development of local skate parks and other skateboard programs. The creativity of the patio was achieved by artists whom are native to Mobile making the restaurant that much more special to the surrounding neighborhoods.
For art lovers who would like to learn more about the salt water masterpieces and its creators, log in online by following the directions on the plaque located at the front of the store.
The menu at Mellow Mushroom is just as much fun and eclectic as its' art work. Signature Pizza selections such as the "Kosmic Karma" or "Holy Shiitake" reflect the irreverent vibe. Pizza is not the only item offered on the vessel. There is a variety of items such as Calzones, a savory burger made from Black Angus Beef, Hoagies, and Salads all made from fresh produce delivered daily. Mellow Mushroom accommodates everyone with their specialty Vegan menu and Gluten free crust made from ancient grains. The restaurant also provides activity sheets that young diners can interact with while enjoying pizza, the ultimate shareable food. Their bar provides 36 local beers on tap and multiple televisions allowing you to weigh anchor while you wait for the Munchies to arrive.
Guests who want to take a piece of the Mellow Mushroom experience home with them can purchase apparel set up by their very own fashion line House of Shroom. The Threads are made of high quality material and are great conversation starters! Check out their entire Stash at https://www.houseofshroom.com.
Mellow Mushroom can be visited Monday through Thursday from 11am to 10pm, Friday and Saturday from 11am to 1030pm and Sunday from 12pm to 10pm. Weekly events and activities will surface shortly after their grand opening. So, don't swim too far or you might get stranded on an island without any pizza to fill your belly.
###
About Mellow Mushroom Pizza Bakers: http://www.mellowmushroom.com
Mellow Mushroom Pizza Bakers was founded in 1974 in Atlanta, Georgia. This franchise, operated under Home-Grown Industries of Georgia, Inc., is headquartered in Atlanta, Georgia. For over 40 years, Mellow Mushroom Pizza Bakers has been serving up fresh, stone-baked pizzas to order in an eclectic, art-filled, and family-friendly environment. Each Mellow is locally owned and operated and provides a unique feel focused around great customer service and high-quality food.
For more information on Mellow Mushroom Pizza Bakers, like us on Facebook at http://www.facebook.com/MellowMushroom, on Twitter at http://www.twitter.com/MellowMushroom, and follow us on Pinterest at http://www.pinterest.com/MellowMushroom.