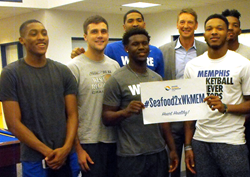 When I was playing," said 16-year NBA veteran Detlef Schrempf, "part of my success, was really living a healthy lifestyle and eating well. I hope I can inspire young people to make healthy choices that will have lasting impacts.
ARLINGTON, VA. (PRWEB) May 09, 2017
Whether it's on the basketball court or on the sidewalks of your neighborhood, regular physical activity is imperative to living a healthy life. Paired with a balanced diet, it can lower the risk of heart disease, type 2 diabetes and some types of cancer – and give you more energy, focus and drive.
In honor of National Physical Fitness and Sports Month, Seafood Nutrition Partnership has asked some star basketball players how they eat to play their best – because they know that training must go hand-in-hand with healthy eating and proper nutrition.
"We have huge challenges ahead of us to get healthy as a nation," said Detlef Schrempf, three-time NBA All-Star and founding board member of non-profit Seafood Nutrition Partnership. "When we were raising our two boys we were very busy, but took the time to educate ourselves on what the right food choices were. It took a conscious effort not settling for the convenient fast food option, because we're all tired at the end of the day, but rather to plan ahead to prepare nutritious meals for our kids."
"When I was playing," said the 16-year NBA veteran, "part of my success, was really living a healthy lifestyle and eating well. I hope I can inspire young people to make healthy choices that will have lasting impacts."
Through his foundation and volunteering with Jr. NBA and NBA Cares, Schrempf tours the country speaking with students about the importance of physical activity and good nutrition, because it takes both to lead a healthy lifestyle.
Research shows that when children are physically active, they do better – they achieve higher grades, don't get sick as frequently and have a more positive outlook.
An inspiration for the future All-Stars, Schrempf also speaks with athletes to instill the importance of nutrition paired with training for optimal performance. College basketball standout Dedric Lawson, who led the Memphis Tigers scoring this year and heads to the Kansas Jayhawks, said Schrempf inspired him to eat seafood twice a week.
"I'm trying to cut my body fat down," Lawson told The Commercial Appeal newspaper, "cutting back on sweets, cutting back on a lot of fried foods and I'm eating a lot of seafood, things that will help my body."
Oklahoma City Thunder center Enes Kanter has also realized that good nutrition impacts performance.
"My first year in the NBA I was a really bad eater," said Kanter, who helped bring his team to the NBA finals this year. "I was up to over 280, so I started a diet of just seafood and vegetables, and I lost over 40 pounds in one summer. I came back in my second season and I felt just so much better. I was running down the floor better, I was moving better. It impacted my performance, too."
He is putting that life lesson to use impacting the community through his work with the Regional Food Bank of Oklahoma, where he works to bring healthy food to those in need. To raise funds for the food bank, he's combined his passions and created an online cooking show, Kitchen 11.
Also taking it digital, Schrempf recently paired with NBA Cares to create a series of videos encouraging healthy eating choices and for people to take the Healthy Heart Pledge.
"Take it from an athlete," he starts in one video, "maintaining a healthy heart and brain is easy when you add seafood to your diet. Seafood is rich in healthy fats known as Omega-3s and full of lean protein."
About Seafood Nutrition Partnership
Seafood Nutrition Partnership (SNP) is the leading 501(c)3 non-profit organization in the U.S. building awareness of the health and nutritional benefits of seafood. SNP is addressing the country's public health crisis through education programs that inspire Americans to incorporate more seafood and omega-3s into their diets for improved health as per USDA Dietary Guidelines. In October 2015, SNP launched a national public health education campaign. For more information, visit SeafoodNutrition.org.