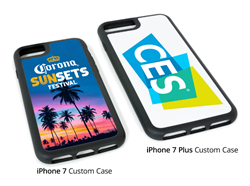 The Custom iPhone Case with Matching Custom Packaging is a great client gift at trade shows, seminars, and events.
Chicago, IL (PRWEB) May 10, 2017
The new Custom Phone Case from Sunrise Hitek is available now for iPhone 6, 6 Plus, 7, and 7 Plus. For the perfect balance between style and function, this Custom Phone Case offers a streamlined appearance featuring a hard plastic back combined with a TPU bumper for added grip and protection. The soft TPU bumper goes all around the phone for added protection. The standard bumper color is black, but custom colors are also available.
A 2015 Time magazine article asserts that American check their phone 8 billion times per day. This breaks down to the average American checking their phone 46 times per day. That is a lot of phone exposure, so why not make it stand out with a favorite photo, or a business logo? Out of that 46 times people are sure to see the phone which equals free advertising and its finest. Sunrise Hitek prints high-resolution full color graphics, ensuring the best quality, making the graphic a true stand-out.
One hallmark of Sunrise Hitek is full customization. The entire polycarbonate back can be custom printed with high-definition printing in vibrant full-color. This high quality full color printing projects a premium brand image. Full-bleed image printing is offered at no additional charge. These cases make a great gift for events, trade shows, employees, friends, and family. In addition, each custom phone case comes with matching, custom printed packaging to deliver the maximum impact for your brand.
Sunrise's new revamped website makes ordering as easy as 1-2-3. Design templates are already available on the site. Simply upload image or logo artwork, order, and wait to see a PDF proof of the case. Standard production time for custom orders is 5-7 days
Wholesale pricing is available for businesses and resellers. Our industrial print process creates hundreds of cases in one pass, making large orders affordable. The Custom Phone Case is great for businesses to show off their logo, or also as a corporate giveaway.
About Sunrise Hitek
Sunrise Hitek's "Hitek" store, is a leading maker of protective gear for Apple's iPad. The brand changed to üuber when the company starting developing cases for other devices, such as the MacBook, Chromebook, and Samsung devices. Sunrise Hitek Group, LLC, owner of the üuber brand, also operates Sunrise Hitek, a leading digital printing company based in Chicago. As a G7 Qualified Master Printer, Sunrise is uniquely qualified among protective gear makers to offer a wide array of customization options, ensuring the most consistent and accurate color reproduction. Sunrise is an Inc. 5000 company established in 1988 and employs the most advanced equipment and technology, such as G7-certified HP Indigo and UV flatbed presses, and digital die-cutting, to create best-in-class products. A privately-owned enterprise, the company is based in Chicago and sells products worldwide.